Immigration Spring Break Trips: 20th Anniversary
ebrief feature
This past February, a record thirty-nine Boston College Law students spent their spring break week volunteering with immigration legal aid providers around the country. Students worked at ten different host organizations in eight cities, all of which provide legal assistance to persons in detention as a result of immigration matters and who are currently facing deportation.
"So here we are, four BC law 1Ls, dressed business casual with our little briefcases and nervous faces walking into what is essentially a prison recreation center. You've got sixty men in orange jumpsuits, quietly and ardently listening to every word the lawyer says, asking urgent questions about their cases while they scan their handouts for more information. After the two hour presentation (there is a LOT of information), she sets the four of us up at individual tables, and tells us to conduct preliminary interviews: Where are you from? How did you enter the US? Do you have any family here? What are your convictions? I did seven interviews during the seven hours we were there. Three interviews in English, and four in Spanish (ahhh I was so nervous)."
- Adriana Dolgetta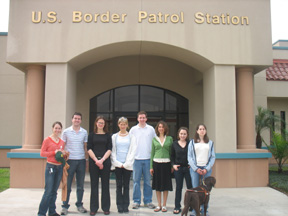 From left to right: Harriet Hoder, Dave Fox, Elizabeth Badger, Ashley Lewis, Kevin Neubeur, Ariele Lessing, Emily Kanstroom, Jennifer Barrow
2008 marks the 20th anniversary of the Immigration Spring Break Trips which have been student-run and coordinated since 1988. This year the trips received more applications than any other year from first and second year students and participation was the highest it has ever been. Many students indicated that programs like the Immigration Trip were one of the key reasons they chose to attend BCLS.
"I was sharply educated on the distinction between the classroom and the real world. A supervising attorney accompanied me to the children's detention center where a client was staying and I watched her playing with other detainees before cautiously approaching her…As we began talking, I listened to her story. She bravely revisited the pain of her past with me, a stranger, who she clearly saw as the person who would help her stay far away from what she'd left behind. I tried my best to be professional, but inside my heart was breaking. The things that Norma had endured already were so hard for me to comprehend…It amazed me how durable the human spirit can be, depending on what it is forced to withstand….This trip was the most meaningful experience I have had since beginning law school."


- Ashley Lewis

As in prior years students returned to volunteer with organizations where BCLS has developed partnerships including in Washington, D.C. with the Capital Area Immigrants' Rights (CAIR) Coalition; in Miami with Catholic Charities and the Florida Immigrant Advocacy Center (FIAC); and in Chicago with the National Immigrant Justice Center (NIJC). Students also returned to Los Angeles to volunteer with the Catholic Legal Immigration Network, Inc. (CLINIC) and for the first time helped out at the South Asian Network (SAN). Similarly, in Harlingen, TX students worked with the Pro Bono Asylum Representation Project (ProBAR) and volunteered with a new partner, the Texas RioGrande Legal Aid (TRLA). Three entirely new cities and placements were made available to students including in Minneapolis, MN, the Minnesota Advocates for Human Rights; in Austin, TX, the Political Asylum Project of Austin (PAPA); and in Florence, AZ, the Florence Immigrant and Refugee Rights Project.

Previous to departure, students were given a crash course in immigration law from Mary Holper, BCLS Immigration and Asylum Project Fellow. Upon return, students overwhelmingly commented that one of the most valuable aspects of the trips was the opportunity to get out the classroom and into the immigration law trenches.

"Sitting in a small interview room at the Port Isabel Detention Center in Los Fresnos, I waited for my client, a young man from the Boston area. Try as I might, I could not convince him that I wasn't actually a lawyer. I did the preliminary interview my supervising attorney had requested, and tried to answer his legal questions as best as I could. Mostly, he just wanted to talk, and I was more than happy to listen. I listened to him explain how ICE had broken down his door at 6 a.m., how he was transported all over New England and then to Texas, without understanding where he was or where he was going. I wanted desperately to reassure him, but I knew enough to realize the gravity of his situation. … I began trying to convince him that cancellation was an option. He asked if I would take his case. I explained again that I had two and half years of school left before I could do that. He said, "If I wait here for two and half years, then will take you my case?""

- Emily Kanstroom

Students had the opportunity to shadow attorneys, write briefs, do legal research for cases, interview clients, prepare affidavits, attend court hearings and, in some cases, even stand up in court. Additionally, students helped detained asylum seekers complete applications, researched country conditions to support applications, and participated in "Know Your Rights" presentations given to those in detention.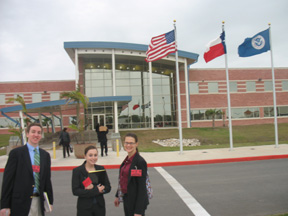 From left to right: Kevin Neubeur, Emily Kanstroom, Elizabeth Badger
"After handing our driver's licenses over to a correction officer, we were escorted into the detention center. Immediately, everything I had read and that I thought I knew about detention centers being kinder and gentler places than prisons vanished from my mind. We had entered a prison yard. There were men dressed in orange jumpsuits standing everywhere, with nothing to do; there were observation towers; there were rows of barbed wire fences; there were armed guards dotting the perimeter of the yard. Later in the day, our supervising attorney told us that detainees are allowed to work in the kitchen or the laundry; per ICE regulations, they are paid $1 for every eight-hour day they work."



- Erin Cox

Students were able to visit adult and juvenile detention centers, and to go to Immigration Court. Students said while the work was initially intimidating, the chance to understand how the law works in practice was invaluable and a highlight of their first year of law school.

Additionally, two students were hired as summer interns at the CLINIC organization in Los Angeles, CA and at the Florence Immigrant and Refugee Rights Project in Florence, AZ as a result of their volunteer week.

In order to fund the Immigration Trips, students worked throughout the year to fundraise. Their efforts were combined this year with a generous contribution from Michael Pinto on behalf of the Community Foundation for Greater Buffalo. All funds were once again matched this year by a generous contribution from the Law School Fund.


"I have been here a week. Tonight I will be going out with my cousin who lives in Phoenix. She is a school teacher- 7th grade. She tells me that the immigrant situation is so much worse than advertised. She tells me that there is nothing fair about it- that bad people get to stay and good people get booted. I tell her, after one week, that I know exactly what she means. And I mean it."



- Drew Morgan