Starting a Charity as Independent Study
michelle limaj, class of 2007
My husband comes from a small village in Macedonia with no paved roads, no grocery store, not even a mailbox. His mother, brother, and six sisters still live there, and every summer that is where we spend our vacation days. We stay with them in their four-room house, sleeping several people to a room (with at least one in the kitchen), and wake up early to the sounds of chickens chattering.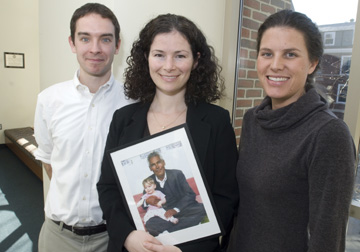 Despite its modesty, the Limaj house is among the nicest in the village of Morani. Three years ago, when my husband and I were living in Macedonia, we spent our savings to have the house rebuilt. It now boasts an indoor kitchen, an indoor toilet, and more importantly, an insulated roof with walls that don't leak. This means the Limaj family stays warm in winter, which is more than most villagers can say.

For years, my husband and I talked about all of the things we would do to help the village "when we are rich." Basic things like repairing the awful patch of road that keeps them virtually cut off from town, and wild things like getting everyone proper dental care. But the thing we talked about most was girls' education. We started sending my sisters-in-law to school several years ago, and have noticed a dramatic improvement in their lives, both in terms of basic self-worth and in terms of employment opportunities. Unfortunately, most Morani parents can't afford to send all of their children to high school, and devote what little money they have to educate their sons. When we saw how much the other girls in the village longed to go to school, we naturally fantasized about being able to send all of them one day. Even as students, we could afford to cover my sisters-in-law's education, so surely we'd be able to do much more once we were wealthy.

But then last year, we realized that it would be a long time until we were rich. Two babies and a whole lot of school loans have turned our fantasy home in Newton to a fantasy condo in Natick. So we decided to stop thinking about how we could help Morani in the future, and started thinking about how to raise money for them now, in the present.

It was Dean Wylie who gave me the idea to do it as an independent study. I told her my wish to start a scholarship program, and she told me to find an advisor and write a proposal. Prof. Greenfield agreed to supervise the incorporation and tax exemption applications, and Prof. Kanstroom allowed me to participate in the Center for Human Rights and International Justice interdisciplinary seminar to help develop the program design. The seminar gave me access to BC experts in the fields of education, political science, theology and social work, and helped me design the ideal program.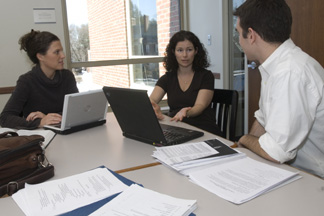 What was most impressive, though, was the large number of BC Law students who volunteered to work on this project with me as board members – not for credit, and certainly not because they had any connection to Macedonia. Students just thought it was a great idea and wanted to help. Two of my classmates, Gerry Cahill and Heddy Bolster (pictured above--I'm in the center), became the other two bodies on the board besides myself, and together we met every two weeks to review the research I'd been doing and apply it to the scholarship program. Pete Saber, another classmate, stepped up with his accounting background to advise us on tax matters, and when it finally came time to send in the IRS application for charity status, with the hefty $500 filing fee, we held our breath and toasted the birth of the Rahman Limaj Scholarship Program.

We named the program after my father-in-law, who died two summers ago, at just 56 years of age. Like most village fathers, he couldn't afford to send his daughters to school, and he deeply resented this fact. I think he would be very happy to know that a scholarship program like this exists, and even happier to see his name on it.

Now we're at the kick-off stage. We've developed a fundraising plan, reached out to our friends and families, made contacts with local businesses for donations and in-kind services like printing, and have even started planning for an internship program that would allow two law students each year to work on the Program for credit. Not that we expect it to need too much work – we designed it based extensive research and a set of best practices we generated by interviewing directors of similar programs worldwide. But every community is different, and as we learn what our scholarship students need, we'll be able to evolve the program to better address those needs. Heddy, Gerry and I can carry on with fundraising and administration, but we think the creative work belongs in the hands of BC students. After all, this is where the Program was born!


For more information on the Rahman Limaj Scholarship Program and how you can help, visit www.rlsp.org.