Observing Albania's Milestone Election
stempler '79 travels to balkans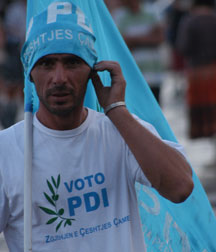 By Cindy Atoji

As Albanians went to the polls this summer for the seventh time since the fall of communism, even in the most remote villages in mountainous Albania, American flags were unfurled outside the voting stations. For this poor, southern Balkan country, which joined NATO last spring, the parliamentary elections were an important milestone towards the country's admittance to the European Union, as a free and democratic election would help move the bloc toward international integration. And as voters turned out in large numbers to cast their ballet between the governing Democrats (DP) and the challenging Socialists (SP), Marilyn Stempler '79, stood by as an observer, watching history being made and helping to monitor the voting process.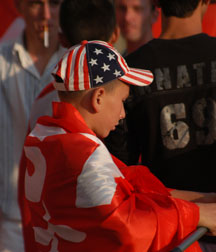 "It allowed me to watch Albania try to have an election that complies with the standards of the OSCE," says Stempler, a partner in the Boston law firm Brown, Rudnick LLP. The OSCE (The Organization for Security and Cooperation in Europe), the largest regional security institution in the world, played a critical role in observing elections that led to the political transformations of Georgia, Kyrgyzstan, and Ukraine.
It was the 12th time that Stempler was an international election supervisor and observer. "Every election is different," says Stempler, who also was part of the U.S. Department of State delegation seconded to OSCE for the Georgia election in 2008; to Kazakhstan in 2007; Montenegro in 2006; Ukraine, 2004; Russia, 2004; Macedonia, 2002; Kosovo, 2000 and Bosnia, 1996. Stempler's interest in becoming an observer began years ago, when a colleague told her about her involvement in the South African election. "That is something I would love to do," Stempler remembers saying. "Helping other countries have a democratic society is helping to give back and having some influence abroad."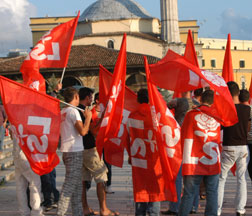 For this Albanian election, Stempler was one of over 400 short-term observers from around the globe who gathered in Tirana, the capital of Albania, for a briefing just a few days before the election, before being deployed throughout the country. In nearly all past elections, the outcomes have been hotly contested, with parties accusing each other of manipulations and vote-rigging - would this one be any different? "Prior to the election, there were improprieties such as the use of government resources to help campaign; the use of government events for campaigning; and intimidation of the voters by employers, teachers, and the government," says Stempler.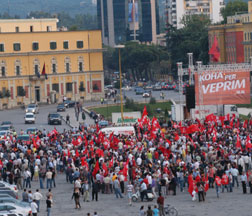 Tirana bustled with vehicles - Mercedes and BMWs - in contrast to 1997, when many Albanians lost their life savings in pyramid schemes, and cars were prohibited by the ruling communist dictator, Enver Hoxha. Cell phones abounded, and people were friendly and welcoming to Stempler, even escorting her across busy intersections. She was assigned, along with a partner observer, to the city of Korca, set high on a plateau between the lush mountainous ranges of southeastern Albania. Her responsibility was one half hour away, in the town of Bilish and the surrounding area, where acres of farms and red-roofed villages dotted the landscape. She was required to visit 12-15 voting centers during election day and file continual observation reports, watching for procedural violations.
Election day was calm and peaceful, says Stempler, as a cool, drizzly mist covered the country. She was up early, carefully watching as young and old found their way to the polling places. As with many Balkin countries, family voting - the practice of male heads of family influencing other family members, in particular women, was a voting infraction worth noting. She saw one elderly Roma, or gypsy woman who insisted she couldn't read and wanted her nephew to help her vote. "An argument ensued - the electoral code does specify that voters have the right to assistance," says Stempler.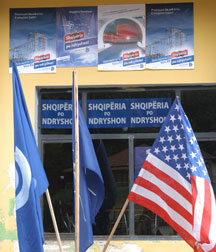 More relatives arrived to argue the case, and voices were raised, including the chairman of the voting center, who wagged a finger, saying, "You Roma give us trouble all the time."

"It was clear," says Stempler, who heard all this through an interpreter, "that they were discriminating against her."
After the voting was completed, more arguments ensued at ballot counting centers the next day. In order to eliminate some of the accused fraud of the past, voting was centralized in ballot counting centers, where local and international observers, including representatives from each party, tabulated the votes. Stempler sat and watched as a Socialist vote counter accused a Democrat of scribbling on a ballot to invalidate it. "One was yelling and screaming to protest his innocence; the other was shouting accusations," says Stempler. Finally, they turned to her and asked her to intervene. "But as an observer, we are bound to observe, but not to comment or offer advice," says Stempler. After much ado, with Stempler trying remain impartial, she finally turned her back on the quibbling parties and left - whereupon she was accused of being "a bad observer."
Final election results, as of this writing, are still unclear weeks later, although the governing Democrats appear to be headed for victory. Although improvements were made in Albania's election process, including the adoption of an improved legal framework and the introduction of new voter registration and I.D. procedures, violations persist, as well as an extremely polarized political climate. But in a statement released by the OSCE, Corien Jonker, head of the delegation of the Council of Europe's Parliamentary Assembly, declared, "These elections demonstrated that the Albanian people have the whole potential for building a democratic society alike that in other European countries," a declaration to which Stempler firmly agrees.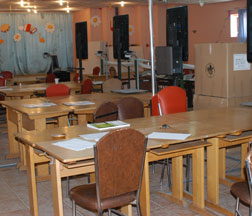 After the counting was completed in her area, Stempler headed back to Tirana, a five-hour drive over mountainous roads with hairpin turns. It was a long ride, enough time to reflect about her first experience as an OSCE observer, in Bosnia, after the war. The country was filled with destruction, pockmarked buildings damaged by relentless shelling, but when people came to vote, "it was an amazing turnout; people came from far and wide; it was a celebration, unlike anything you'd see in the U.S."
And so, this is the lesson that Stempler carries home from Albania and her other travels - the ability to vote and an appreciation of the safe and fair election process in the United States. "I always feel honored to vote, and always vote, of course. It's a right and a process that no one should take for granted."