Sarajevo and Hope
ebrief feature
By Paul Marzagalli

A hard truth of war is that many of the most difficult battles come after the peace, when the bullets have stopped firing. Recovery, rebuilding, and reconciliation are the critical building blocks of any post-war society, as is a reckoning for war crimes and atrocities.

A recent example of this is the fall and rise of the former states of Yugoslavia. The work of the International Criminal Tribunal for the Former Yugoslavia (ICTY) has played a critical role in the rebuilding process, and students from Boston College Law School have served in that effort. Now, a new internship program based in Sarajevo puts BC Law in the vanguard of human rights defense and war crimes prosecution.

From prior success, a new opportunity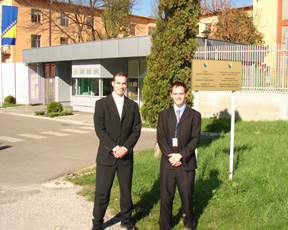 BC Law has enjoyed a productive working relationship with the International Criminal Court (ICC), which is based in The Hague, sending over sixty law students during the past six years for a number of summer and academic year internship opportunities. The program started when Philip Weiner (Law '80) joined the court in January of 2001. It wasn't long before he saw an opportunity.

"I called Sanford Katz about the possibility of a Hague internship for a BC student, and he put me in touch with [Professor and Director of International Programs] David Wirth," Weiner says. "It moved very quickly from there."

Working with Wirth and Professor Daniel Kanstroom, Weiner helped placed BC Law's first students at the ICTY in the summer of 2001 - Kathleen Devlin ('02), Dwayne Nash ('02) and Matthiew Cormier ('02). By the spring of 2002, the program was fully in line with ABA and BC Law academic standards, becoming a for-credit academic internship. Another milestone was reached in 2003 when Wasana Punyasena ('04) became an intern for the International Criminal Court. According to Weiner, Pasana was the first ever American law school student accepted for an internship in the court.

The mandate of the ICTY is limited in scope, rendering it unable to deal with the vast majority of war crime and atrocity claims being dealt with in the former Yugoslavian states. In 2005, the Special Department for War Crimes of the Prosecutor's Office of Bosnia & Herzegovina was established in Sarajevo, equipped with a broader mandate and shouldering a much larger caseload. One of the attorneys who helped launch the office was Francesco Caruso, a protégé of Phillip Weiner during their years together in The Hague. A year later, in 2006, Caruso became director of the department internship program.

"He would contact me about interns," says Weiner. "I mentioned the idea of sending a law student intern, and he agreed." Having seen the work of BC Law students before, Weiner says Caruso was confident about moving in that direction. The foundation was laid for what would become a new internship program for Boston College Law School.

From concept to reality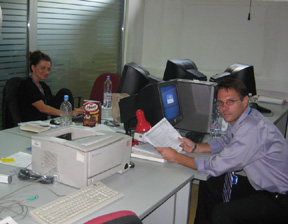 Kanstroom and Weiner worked with Caruso over the course of the 2006-07 academic year to develop the necessary standards and vetting processes for the internships. The program was officially christened "The ICT Human Rights Law Program in Sarajevo."
In the program, students will receive a full semester of course credits and will work full-time alongside international legal officers, generally graduate lawyers who have practiced in the U.K., U.S., Italy, Canada, Australia, the Ukraine and Austria. They will be supervised by Adjunct Professor Francesco Caruso and will submit weekly journals to Kanstroom, who will also supervise a major research project with each student over the course of the semester.

The program officially began this past summer, when third-year law student Max Matthews participated in a summer internship. Matthews made a strong impression that had a dramatic and immediate impact. When an unexpected second summer internship opened up, Caruso looked immediately to BC Law – and Matthews was quickly joined by fellow third-year student David Tedeschi. Matthews stayed on into the fall semester, and was joined then by third-year student Kevin Walker.

Student perspectives

Matthews and Walker have been in Sarajevo for a relatively short time, but were eager to talk about their experiences. The two law students share a common passion for international law.

"Since college I have been planning to pursue a career in international law, particularly as it relates to humanitarian law, human rights, and transitional justice," Matthews says. "This is a career path I am firmly committed to and have been preparing myself for."

Walker feels much the same. "One of the main reasons I came to BC Law was to have the chance to participate in a War Crimes Prosecution Clinic," he says. "I have interests in both Criminal and International Law, and BC is one of the very few schools that allow a student to get experience in both."

Both students feel that being placed in Sarajevo, the center of the Yugoslavian Civil War, is an unprecedented and important opportunity. Walker noted that Sarajevo was "subjected to the longest siege in modern history," leaving it in ruins at the end of the conflict. Although reconstruction has helped Sarajevo begin to regain its former glory, according to Walker, Matthews notes that "many buildings are still peppered with bullet holes, shell craters (or Sarajevo Roses) remain in almost every sidewalk, and there are still bombed-out buildings and unexploded ordinance throughout the city."

Still, both students consider the city very safe, and Weiner agrees, based on his experiences in the city during his ICTY tenure.

"The 'teeth' of human rights/international law enforcement"

Both students are members of small prosecution teams, numbering five or six people. The degree of responsibility shouldered by each student is high and the list of duties within their purviews is varied. Witness interviews, legal research, motion drafting, evidence analysis, courtroom work, and even helping to train other interns are essential parts of the job.

They are joined in their efforts by a BC Law alumna, the Honorable Elizabeth Fahey ('77) of the Massachusetts Superior Court. Judge Fahey is currently on leave from the court and is serving as a tribunal judge in Yugoslavia. The seriousness of the cases and the sheer volume of work that she and the students are facing cannot be understated.

Says Matthews, "there are several major issues and cases before our office, all relating to war crimes during the war…no one case stands above all the rest. There are smaller cases and larger cases. Some are against a single person accused for a single crime. Others, like my case, involve several accused, hundreds of crimes, and thousands of victims."

Walker adds, "Before I left for Sarajevo, I had been under the impression that the Court was trying minor cases that were on the level of a simple murder case…however, I am working on a case with four accused alleged to have run a detention camp where dozens of Bosnian Muslims were interned for several months and tortured, raped, and murdered...There are enough cases that the Court could operate for one-hundred years and not get through them all."

Neither student is daunted by the task, though.
"War Crimes Prosecution represents the 'teeth' of human rights/international law enforcement," says Walker. "Our focus is on making sure that the people who committed these crimes are put away for as long as humanly possible."
Matthews frames the commitment in the longer-term. "To actually work on-site towards establishing justice and the rule of law in a post-conflict society was an opportunity I would never have let pass me by… the work is incredibly interesting and of historic importance for Bosnia and Herzegovina."

The future of the program, moving forward

The work of Tedeschi, Walker, and Matthews has already yielded results. According to Weiner, the Prosecutor's Office has suggested an expanded internship program that would also consist of legal research from the War Crimes division being sent to BC Law as special research opportunities for students. How the program ends up taking shape will be a chief subject of discussion this year for Professor Kanstroom and the internship committee overseeing the Hague and Sarajevo programs. But the Sarajevo proposal demonstrates just how far BC Law has come in the few short years of their International Court programs.

"BC has developed a reputation for sending students that are bright, committed, and work very hard," says Weiner. "They are not afraid to work very long hours to complete a project, sometimes working around the clock. Other schools send quality students, but Boston College has consistently maintained a high standard… a lot of the process is also making phone calls and being in contact with people. We are at a point now where I can say 'this student is from Boston College' and that means something. That carries weight when it is time to decide whether or not an internship is available."

Weiner says that the program is a tremendous experience and opportunity for BC Law students. "It's working for peace and our students should be very proud. The public sees that justice is happening and it prevents war from reoccurring. It helps these wounds heal."

The two current interns could not agree more, and when asked if they would recommend the program to other students, responded emphatically. Matthews calls the program "hands-down my most valuable experience in law school." Walker is equally enthusiastic.

"With one exception, all of the other interns at the Court already have their law degrees," he says. "To be able to have this experience while still in law school is a privilege and sets us apart from other schools not only in the US but in the world…while the work is at times extremely stressful and hard to deal with emotionally, I would never trade it for a semester of classes. There is simply no possible way for us to learn these things without being in the middle of it."

Interested students are encouraged to contact Professor Kanstroom at kanstroo@bc.edu to learn more about the application process.