BC LawNet
law school online community
BC LawNet Resources
Take advantage of these resources within our Online Community:

1. Online Alumni Directory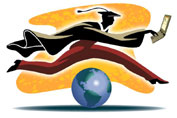 2. Career Advisory Network
3. Class Notes
4. E-mail Forwarding
5. Registration for Events
6. Yellow Pages
7. Chapter and Group information and events


FIRST-TIME USERS
(also BC Law graduates prior to May 2002)

REGISTER (coming soon)

RETURNING USERS
(and BC Law graduates of May 2002 and after)

LOG IN (coming soon)

About BC LawNet
BC LawNet is exclusively available to all alumni and students of Boston College Law School. BC LawNet enables alumni to look up classmates in an online directory, take advantage of career resources, including the Career Advisory Network, register for events, submit Class Notes, maintain an @bc.edu forwarding address, and review and update contact information.

Registering and Logging In
BC LawNet requires that users register in order to verify their alumni status and to maintain a secure environment for all alumni.

Important Note: To register for BC LawNet, you will need to know your Boston College EagleID, which is BC's University Identifier. Your EagleID number was sent to you in an initial email announcing BC LawNet. If you can't find it or need help, please email feedback@alumniconnections.com.

All requests for assistance are answered in the order they were received. We will make every effort to respond to your request within two business days, although there may be a delay due to the number of inquiries we receive.

Note: Effective May 2002, new BC Law alumni are automatically registered for BC LawNet. If you graduated after May 2002, please use your BC student username and password to log in to the online community. If you graduated prior to May 2002, please register for BC LawNet to create your account.

Assistance with BC LawNet
Forget your username? E-mail your full name and year of graduation to feedback@alumniconnections.com. Forget your password? Visit our password assistance page. For more information, view our frequently asked questions or e-mail your questions to bclawnet@bc.edu.

Note: to update your contact information without registering and logging in, just email the update to BC Information Services Department at infoserve@bc.edu.