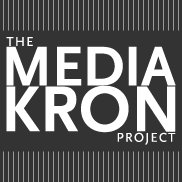 Content on Your Site: Filtering, Editing, and Deleting Comments
Users can comment on content items on MediaKron. Organize these comments using the filtering, editing, and deleting functions built into the site.

To view the comments under a particular piece of content, click on the small arrow below the item description. This will expand the box and display comments.

Comments Workspace
Select Manage Project to work with comments.

From the toolbar on the left, select Content.
Select Comments located under Content on this toolbar.

The Comments workspace within MediaKron should now be displayed with the comments currently on the site listed in this space.

Filtering Comments
To sort comments, it is possible to filter by Author, Item Title, or Topic. To sort by Author or Item Title, enter the text in the space provided. To filter by Topic, select the topic from the drop-down menu provided.

After filtering criteria, click APPLY.
The content listed should now be filtered by the criteria set. In the example here, the content was filtered by Item Topic, Seinfeld. In the list only items within this topic are now shown.

Editing Comments
In order to edit a comment, locate and select the "pencil icon" under the Ops. column.
A space to edit the comment will appear. Use the styling functions provided in the horizontal bar above the text box. After editing and before saving the comment, it is possible to Preview. When you are ready to post, click SAVE.

A message will now appear to verify that the comment was edited and posted.

Deleting One Comment
In order to delete a comment, locate and select the "trashcan icon" under the Ops. column.
To confirm deletion of the comment, select DELETE. To return to the previous screen without deleting anything, click Cancel.

A message should appear to verify that the item has been deleted.

Deleting Multiple Comments
In order to delete multiple comments at once, check the boxes on the left side of the list.

To delete the entire list of comments on this page, check the Comment box at the top of the list. This should highlight every comment in the list on this page. To select all of the comments in this view, click SELECT ALL ROWS IN THIS VIEW.

After choosing the desired comments for deletion, select the Delete item option under the Operations toolbar above the comments list. Select EXECUTE thereafter.

To delete these comments, click CONFIRM. Otherwise, click Cancel.

A message should appear verifying that the items have been deleted.
The grant was received from the Davis Educational Foundation established by Stanton and Elisabeth Davis after Mr. Davis's retirement as chairman of Shaw's Supermarkets, Inc.
tmkp@bc.edu 617-552-6576
© 2013 The Trustees of Boston College.