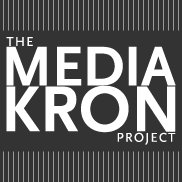 Organizing Your Site: Enabling, Disabling, Setting Up, and Using the Timeline Tool
MediaKron supports a robust timeline tool that allows you to specify dates for content items and view their chronological relation to one another.

Enabling or Disabling the Timeline Tool
The timeline function is automatically disabled when your MediaKron site is built. To enable the timeline, sign into your MediaKron site and select Manage Project.
Select Organize from the left sidebar menu.

To display the Timeline on MediaKron, check the box that reads, "Check to enable timeline."

The timeline will appear on your MediaKron site after the box is checked.

How to Set up the Timeline
In order to set the appropriate unites of time, [1] go to the Timeline tab on the Organize page. [2] Select the largest unit of time relevant for your project from the dropdown menu within box #1.

Select the smallest unit of time relevant for your project from the dropdown menu in box #2.

Enter the Start and End Year for your timeline in box #3.
*Please note: use negative numbers for BCE dates. Please keep in mind that media content added to the timeline must fall within this timeframe in order to appear on the timeline.

As you assign dates, content items in the Timeline area will be categorized both by title and time labels corresponding to the largest and smallest units of time selected.

Scroll down to the bottom of the page and click SAVE. The message shown here will appear verifying that the timeline has been updated.

Using the Timeline
To view and use the Timeline tool in your MediaKron site, navigate to the Timeline from the Homepage.

Click on and use the "grab bars" located at the bottom of the timeline to scroll through your timeline or narrow/expand the timeframe.

Media icons representing content items will appear on the Timeline if they have been assigned dates. Scroll over an icon to see a short description of this media item along with its date. Click on a media icon to enter its full content view.
To learn how to assign dates to media items so that they will be visible on the Timeline, please see the relevant content tutorials:
The grant was received from the Davis Educational Foundation established by Stanton and Elisabeth Davis after Mr. Davis's retirement as chairman of Shaw's Supermarkets, Inc.
tmkp@bc.edu 617-552-6576
© 2013 The Trustees of Boston College.