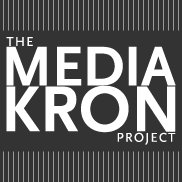 Organizing Your Site: Adding, Editing, Deleting and Sorting Topics
When a topic is created, the title of the topic will show in the left sidebar of the MediaKron project. Each item added to MediaKron will be associated with a topic.

How to Add a Topic
To create a Topic, select Manage Project.
From the left sidebar menu, select Organize.
When the Organize screen is displayed, select Add a Topic to create a new topic.

Enter the name and description for the new topic in the space provided. The edit toolbar can be used for a variety of functions including style, copy and paste in the description box.

To associate an image with the new topic, [1] select Choose File. [2] Select an image from the hard drive and [3] click Open (This file must be less than 10 MB and must be a .png, .gif, .jpg, or .jpeg file).
When the Topic creation is complete, click SAVE.

The new topic will appear in the list of topics on the Organize page.

How to Sort Topics

To change the order of topics or content, select the "crosshair grab tool" located to the left of the topic title. Drag
the topic to the desired placement on the Organization list.
*Please note that the crosshair grab tool icon must be activated, rather than the item name, in order to move it. Once an item is moved, the following message will appear:

Click SAVE at the bottom of the page once finished.
How to Add a Sub-topic
With the instructions above, create an additional topic. Select and hold the "crosshair grab tool" to position the topic below and slightly indented from a main topic.

Select the SAVE button after completing the addition of sub-topics or topic reorganization (MediaKron only allows one level of sub-topics below each topic).

How to Edit a Topic
From the Organize space, under Operations, click on the "pencil icon" next to the topic to edit.

This will open an editing space, where tools can be used to edit the topic title, description, or image associated with the topic. Click SAVE.

The edited topic should appear on the Organize list, and a message should appear above the Organize list, verifying that the Topic has been updated.

How to Delete a Topic
From the Organize space, locate the topic to delete. Under Operations, click the "trashcan icon."
The system will ask for confirmation. Click DELETE to delete the topic, or click Cancel.

Once the topic has been deleted, it will no longer appear in the Organize list.
Once deleted, media items associated with the topic will still
exist under the Content menu, but will no longer be
associated with a topic. They will need to be edited to
associate them with another topic.

The grant was received from the Davis Educational Foundation established by Stanton and Elisabeth Davis after Mr. Davis's retirement as chairman of Shaw's Supermarkets, Inc.
tmkp@bc.edu 617-552-6576
© 2013 The Trustees of Boston College.