Immigration Sources at Boston College
office of news & public affairs

Westy Egmont
Research Professor
Graduate School of Social Work
Egmont is a leading expert in the area of immigrant integration. His areas of expertise include immigration, refugee resettlement, migration and human trafficking. He heads the Immigrant Integration Lab at Boston College, an applied research center exploring the intersection of social work and social policy to determine the most appropriate services and delivery systems that lead to full social, civic, and economic integration of the foreign born in the United States. Prior to coming to BC, he served as president of the International Institute of Boston, a leader in New England in providing services to immigrants and refugees. He also co-chaired the National Immigrant Integration Conference and founded "Dreams of Freedom," a multimedia exhibition covering the immigration experience in Boston from the Puritans to present day.

617-552-0324
westy.egmont@bc.edu
Faculty website

Rev. David Hollenbach, SJ
University Chair in Human Rights and International Justice
Director, Center for Human Rights and International Justice College
The role of religion in social and political life. He teaches periodically at Hekima College of the Catholic University of Eastern Africa, in Nairobi, Kenya. Fr. Hollenbach was the principal consultant for the US Catholic Bishops' 1986 report "Economic Justice for All." He has served as president of the Society of Christian Ethics. Fr. Hollenbach's publications include The Global Face of Public Faith: Politics, Human Rights, and Christian Ethics;The Common Good and Christian Ethics; and Justice, Peace, and Human Rights: American Catholic Social Ethics in a Pluralistic World. Fr. Hollenbach has received the John Courtney Murray Award for outstanding contributions to theology from the Catholic Theological Society of America. He is director of Boston College's Center for Human Rights and International Justice. Author of the book Pivotal Deterrence: Third Party Statecraft and the Pursuit of Peace. Courses have included: "Politics and International Economic Relations"; "Limits & Promise of Cooperation in World Politics."
617.552.4171
david.hollenbach@bc.edu
Faculty website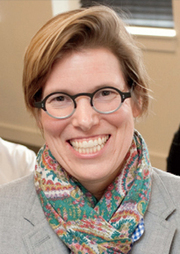 Kari Hong
Assistant Professor, Law School
Immigration law, immigration consequences of criminal convictions, criminal law, family law, and LGBT rights. Prior to joining Boston College, Hong operated her own firm with offices in California and Oregon where she specialized in immigration and criminal law. She has prepared more than 90 actions in the Ninth Circuit Court of Appeals, representing non-citizens in asylum, removal defense, citizenship claims, and criminal defendants accused of white collar crimes, violent felonies, and drug-related offenses. She has prepared more than 40 state criminal appeals in the state of California. An expert in family law and marriage, Hong has made numerous presentations on both topics and participated in panel discussions across the country. Her scholarship focuses on the parent-child relationship with a particular emphasis on how family doctrines are altered or distorted when applied in other legal areas. Hong's articles have been published in the University of Virginia Law Review and the Georgetown Immigration Law Journal and have been cited by the New Jersey Supreme Court.

617-552-4390
kari.hong@bc.edu
Faculty website

Daniel Kanstroom
Clincal Professor, Law School
College of Arts & Sciences
Ph.D. Harvard University
Author of the book Aftermath: Deportation Law and the New American Diaspora. A clinical professor in the Boston College Law School, Kanstroom is an immigration and deportation law scholar and practitioner. He is founder and current director of the Law School's Immigration and Asylum Project in which students represent indigent non-citizens and asylum-seekers. Together with his students, Kanstroom has won several high-profile immigration and asylum cases and has provided counsel for hundreds of clients over more than a decade. He and his students have also written amicus briefs for the U.S. Supreme Court. Kanstroom has published on topics such as U.S. immigration law, criminal law, and European citizenship and asylum law. Kanstroom has co-chaired a national immigration committee of the American Bar Association. He is an associate director of Boston College's Center for Human Rights and International Justice.
617.552.1896
kanstroo@bc.edu
Faculty website

Peter Skerry
Professor, Political Science Department
College of Arts & Sciences
Ph.D. Harvard University
Skerry's research focuses on social policy, racial and ethnic politics, and immigration. He is a non-resident senior fellow at the Brookings Institution and has been a fellow at the Woodrow Wilson International Center for Scholars in Washington as well as a research fellow at the American Enterprise Institute. His writings on politics, racial and ethnic issues, immigration and social policy have appeared in publications such as Society; Publius; The Journal of Policy History; The New Republic; Slate; The Public Interest; National Review; The New York Times; The Los Angeles Times; The Wall Street Journal, and The Washington Post. His book, Mexican Americans: The Ambivalent Minority, was awarded the 1993 Los Angeles Times Book Prize. His most recent book is Counting on the Census? Race, Group Identity, and the Evasion of Politics. His courses have included: "Urban Politics in 21st-Century America," "Immigration: Processes, Politics, and Policies," and "Race and Ethnicity in the Administrative State."
617-552-3112
peter.skerry@bc.edu
Faculty website