BC Expert: Iranian Nuclear Deal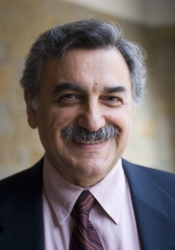 PROFESSOR ALI BANUAZIZI
POLITICAL SCIENCE DEPARTMENT, BOSTON COLLEGE
DIRECTOR, ISLAMIC CIVILIZATION AND SOCIETIES PROGRAM

A native of Iran, Ali Banuazizi is a past president of the Middle East Studies Association, the largest association of Middle East scholars in the United States. He directs BC's Islamic Civilization and Societies program. He has authored numerous articles on society, culture, and politics in Iran and the Middle East, and is the co-editor of three books on politics, religion and society in Southwest and Central Asia, including The State, Religion, and Ethnic Politics in Afghanistan, Iran, and Pakistan; The Politics of Social Transformation in Afghanistan, Iran, and Pakistan; and The New Geopolitics of Central Asia and Its Borderlands.
(617) 970-1888 (c); ali.banuazizi@bc.edu
---------------------------------------------------------------------
4-2-15:

Newly concluded nuclear negotiations between the United States, Iran and five other countries have led to "a decisive step" in limiting Iran's nuclear programs. While it's not everything the United States was hoping to walk away with, it's a good start according to Boston College Political Science Professor Ali Banuazizi.
"This is a remarkable opening in the relationship," says Banuazizi, an Iranian native. "For the past 35 years, not only have the two countries had no diplomatic relations, but they obviously have been demonizing each other and have been adversaries in every possible manner."
Following eight days of non-stop negotiations that cap a 12-year process, leaders from the negotiating countries announced a framework for a future final agreement, which has a June 30 deadline. Iran agrees to a certain degree of rollback in its purification of uranium, and to a very intrusive regime of inspection by the IAEA. The country also agrees to send some of its stockpiles abroad, or provide ways of neutralizing what it has already produced.
"The United States wanted to have a much more specific set of commitments on the part of Iran and apparently, that's not part of the agreement," says Banuazizi, the former president of the Middle East Studies Association, the largest association of Middle East scholars in the United States. "The agreement has the tone of a general, common understanding as to what needs to be achieved over the next couple of months towards a final agreement."
Banuazizi expects the agreement to have a rough ride in Congress and will likely face serious opposition by the hardliners in the Iranian Parliament and the Revolutionary Guards (IRGC).
But he Iranian Supreme Leader Ayatollah Ali Khamenei will sign off on it, especially given the prospect that the sanctions that have crippled his country will be lifted.
"He has been leaning in that direction and I think he's going to be supportive of the agreement."
While this may be a breakthrough in U.S.-Iranian relations, Banuazizi says the U.S. should not read too much into what it might mean down the line.
"The hope of the United States is that this will lead to a complete change in US-Iran relations, that Iran will be brought into the fold and will cooperate in other areas, particularly Syria and now Yemen and Iraq," says Banuazizi, an expert in Middle Eastern affairs. "But I'm not very optimistic that this agreement will in fact set the stage for any close cooperation between the US and Iran in other critical areas, at least in the near term. For the hardliners in the Iranian regime, a close and expanding relationship with the U.S. beyond a limited nuclear agreement is viewed as a threat that would undermine their long-standing narrative of an implacable enemy."
*************************************************************
Media Note: For assistance or to request a source on another topic, please contact Sean Hennessey, BC Office of News & Public Affairs: 617-552-3630 (o); (617) 943-4323 (c); or sean.hennessey@bc.edu.
Contact information for additional Boston College faculty sources on a range of subjects is available at: /offices/pubaf/journalist/experts.html