'Finding God: A Visual Journey from Grief to Hope'
quilts and poetry by school of theology & ministry graduate studentmonique cerundolo - exhibit extended at burns library through july 28
Contact:
Burns Library
617-552-3282


CHESTNUT HILL, MA (July 2009) - An exhibition of quilts and poetry designed to explore concepts of grief, suffering and hope - now on display in the Fine Print Room of Boston College's Burns Library - has been extended through July 28.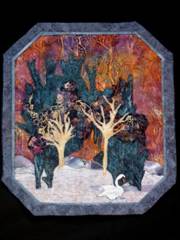 'Finding God: A Visual Journey from Grief to Hope' is comprised of original poetry and visual art created and presented by BC School of Theology and Ministry graduate student Monique Cerundolo as part of her master synthesis in pastoral ministry.
'We all experience the pain of losses and the deep emotions that surround them,' said Cerundolo. 'In my ministry with hospice I have seen patients find meaning in the midst of suffering. This project explores the stages of grief as described by Kübler-Ross: denial, anger, bargaining, depression and acceptance. I hope it may serve as an educational tool for hospices, Church bereavement meetings and Retreats on Grief.'

At right, 'Lost' - a quilt from the exhibit.

July 6-28, 2009: 'Finding God: A Visual Journey from Grief to Hope' - an exhibit of quilts and poetry exploring concepts of suffering, loss, meaning and hope at the John J. Burns Library Fine Print Room, Boston College, 140 Commonwealth Avenue, Chestnut Hill, Mass. The exhibit is free and open to the public. Hours: Monday through Friday from 9:00 a.m. to 5:00 p.m. or by appointment. Venue is handicapped accessible. For information call: 617-552-3282 or visit www.bc.edu/burns
###