Nursing Graduate Lauren Fadely Receives Boston College's Top Undergraduate Award
Her experiences aboard Mercy Ships inspired her commitment to caring
Contact:
Kathleen Sullivan
Boston College
Office of Public Affairs
617-552-8644

CHESTNUT HILL, MA (May 27, 2009) -- Van, TX resident Lauren "Elle" Fadely, a member of the Boston College Class of 2009 who spent her childhood on Mercy Ships that brought health care to the world's poor, was presented with Boston College's highest undergraduate honor at the University's Commencement on May 18.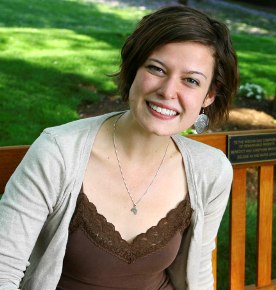 Fadely received Boston College's Edward H. Finnegan, SJ, Memorial Award, annually presented to the graduating senior who best exemplifies the University's motto "Ever to Excel." She also earned a Bachelor of Science degree summa cum laude from BC's Connell School of Nursing.
From the ages of four to 15, Fadely traveled with her family on the floating hospital vessels of Mercy Ships, a global non-profit charity serving the health care, dental care and surgical needs of people in developing nations.
Since its establishment in 1978, Mercy Ships has performed some 1.7 million services directly impacting approximately 1.9 million people, including performing more than 32,500 surgeries, treating over 212,000 people in village medical clinics, performing some 183,000 dental treatments, training over 14,500 local health care and professional workers, and delivering approximately $60 million worth of medical equipment, hospital supplies and medicines.
Fadely's father was the captain of the Caribbean Mercy until 2003, when the family moved to Texas where her parents, Jon and Angie, continue to work for Mercy Ships at its International Operations Center.
Fadely was nominated for the Finnegan Award by the faculty in the BC Connell School of Nursing (CSON) who were impressed with her outstanding academic record, research contributions and "deep level of service and dedication to international health care."
"Elle has brought this lived experience to Boston College and has exposed her peers to the broader global reality through her own dedication to global health initiatives," said BC CSON Associate Dean Cathy Read.
As an Undergraduate Research Fellow, a position reserved for top students, Fadely worked closely for three years with BC CSON Prof. June Horowitz on a National Institute of Health-funded research study on postpartum depression.
With funding from a BC Advanced Study grant, Fadely traveled to Sierra Leone to conduct a study on women receiving services at surgical center in Freetown. She studied the process of community reintegration for these women, who had been ostracized because of an obstetric injury that made them unable to bear children or work.
She was inducted into Alpha Sigma Nu, the Jesuit honor society and Sigma Theta Tau, the national nursing honor society. At BC she participated in the Intervarsity Multi-Ethnic Christian Fellowship and was active in the Student Nurses Association.
Faculty praised Fadely for selfless commitment to helping her fellow students' academic and personal success by leading tutoring and exam review sessions. She has "a gentle, warm approach so the students flock to her as a tutor for her expertise and her style," said BC CSON Clinical Asst. Professor Stacey Barone.
"Elle has worked with students who are struggling with the medical disease diagnosis and treatment content and test taking, and been able to successfully build their confidence and nurture their growth in learning the material," continued Barone.

Fadely ultimately plans to pursue graduate studies in midwifery and public health, with an emphasis on international public health initiatives. She has taken a position as an RN in UCLA Medical Center's Labor and Delivery Department.
###