First anthology of Irish war poetry launched at BC
'Earth Voices Whispering,' edited by Noted dublin Poet Gerald Dawe
Contact:
Patti Delaney
Office of Public Affairs
617-552-3352, delaneyp@bc.edu
CHESTNUT HILL, MA (March 2009) - In the first half of the 20th century, the men and women of Ireland experienced the brutal realities of a succession of wars – from the unrelenting casualties of the First World War to the domestic upheavals of the 1916 Easter Rising and the Irish Civil War, and from the idealism of the Spanish Civil War to the horrors of World War II.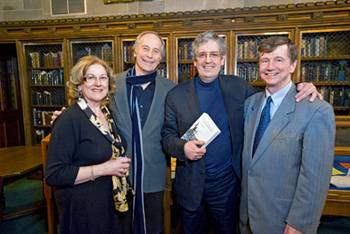 Now, the groundbreaking new book "Earth Voices Whispering: An Anthology of Irish War Poetry 1914-45" gathers together, for the first time, a wide range of Irish poetic voices that chart the human experiences of these wars, recording the thoughts and experiences of poets as soldiers, patriots, observers, protestors, medics and mourners.
PHOTO from the launch at BC's Burns Library of 'Earth Voices Whispering,' edited by Dublin poet and literary critic Gerald Dawe, second from right. Also pictured l-r are Gerald Dawe's wife, Dorothea Melvin, Pulitzer Prize-winning American novelist Richard Ford, and BC Burns Library Director Robert O'Neill. (Photo by Gary Wayne Gilbert)
Officially launched at an event at BC's Burns Library, the volume features more than 250 works by celebrated poets such as Francis Ledwidge -- sometimes known as the "poet of the blackbirds," who was killed in action near Ypres, Belgium during World War I -- and Nobel Laureates W.B. Yeats and Seamus Heaney, and includes new poems by Derek Mahon and Eiléan Ní Chuilleanáin.
Edited by award-winning poet and literary critic Gerald Dawe and published by Belfast's Blackstaff Press, "Earth Voices Whispering" embraces the complex reality of a rich, unique and historically overlooked period in Irish poetry, from patriotism to anger, passion to compassion, and hope to regret.
Dawe utilized the Burns Library's internationally-noted Irish archives -- the premier collection of Irish research materials outside of Ireland -- in assembling the volume during his 2005 tenure as BC's John J. Burns Visiting Professor in Irish Studies.
At the time, he recounted having almost more success uncovering material than he could handle. "I could be at this for 10 years," he said in an interview. "It's so interesting to see works of all these poets - some famous, some who faded from the landscape - coming together."
He also expressed his hope that the book would provide a poetic and literary view of Ireland's role in conflicts during the period. "I've always been uncertain about William Butler Yeats' statement that 'War is an issue of passive suffering,' so this project is perhaps my way of addressing that uncertainty," he said.
"Gerald Dawe generously credits BC's Irish Collection as key to his work in compiling the anthology," said Robert O'Neill, director of BC's Burns Library. "We are delighted to be asked to the launch the book in America."
Dawe, who lives in County Dublin, is the author of seven collections of poetry, including his most recent collection, "Points West"; a volume of collected criticism, "The Proper Word"; and a memoir, "My Mother-City." He is also the editor of several anthologies of Irish writing, including "The Younger Irish Poets."
Educated at the University of Ulster, Coleraine, and the National University of Ireland, Galway, he is currently a Fellow of Trinity College Dublin, senior lecturer in English and director of the Oscar Wilde Centre for Irish Writing. His awards and honors include the Macaulay Fellowship in Literature, Hawthornden and Ledig-Rowohlt writers' fellowships, and Arts Council of Ireland Literature Awards.
ABOUT BURNS LIBRARY
The John J. Burns Library of Rare Books and Special Collections at Boston College is named in memory of the Honorable John J. Burns, a 1921 BC alumnus who was one of its principal benefactors. It houses more than 200,000 volumes, 15 million manuscripts and impressive holdings of artifacts, maps, paintings, photographs, ephemera and architectural records.
The Burns Library is home to the Boston College Irish Collection, considered to be the premier, most comprehensive collection of Irish research material in the United States. The Irish Collection documents the history, life and culture of the Irish people, and maintains strong holdings in Irish history, religion and politics, as well as significant archives related to some of Ireland's greatest writers, such as Nobel Laureates Samuel Beckett and W.B. Yeats, that are among the finest in the world. Irish-related programs at Burns are also part of Boston College's Center for Irish Programs, overseen by University Prof. of History Dr. Thomas Hachey.
Burns Library is located at 140 Commonwealth Avenue, Chestnut Hill, Mass. For information, the public may call: 617-552-3282 or visit www.bc.edu/burns
###