Center for Retirement Research at Boston CollegeReceives Additional $2.8M in Federal Support
Contact:
Andrew Eschtruth
617-552-1729
eschtrut@bc.edu

CHESTNUT HILL, MA (9-25-09) -- The Center for Retirement Research at Boston College has received $2.8 million in funding from the U.S. Social Security Administration (SSA) to support research and dissemination on retirement income issues in Fiscal Year 2010. Since its inception in 1998, the Center has received $24.9 million from SSA.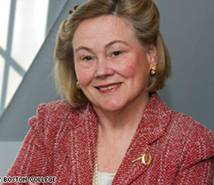 Alicia H. Munnell, the Center's Director, said that the new award "recognizes the sterling track record of the Center and underscores the growing importance of our work during a period of great economic challenge."
About the Center for Retirement Research
The Center for Retirement Research at Boston College, part of a consortium that includes parallel centers at the University of Michigan and the National Bureau of Economic Research, was established in 1998 through a grant from the Social Security Administration. Alicia Munnell

The goals of the Center are to promote research on retirement issues, to transmit new findings to the policy community and the public, to help train new scholars, and to broaden access to valuable data sources. Through these initiatives, the Center hopes to forge a strong link between the academic and policy communities around an issue of critical importance to the nation's future.
###