Bloomsday Boston 2009
Sunday, June 14, 2009

12 – 6:30 p.m.
Boston College hosts the 3rd annual Bloomsday Boston, a celebration of James Joyce's epic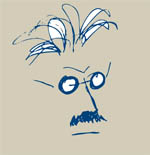 novel, Ulysses, which chronicles the life of Leopold Bloom as he meanders through the streets of Dublin on June 16, 1904. This celebration will include theatrical readings hosted by Brian O'Donovan of WGBH's "A Celtic Sojourn," lively discussions led by Joyce experts, John Huston's film The Dead, and a reception with live music by Annalivia, an acoustic fiddle quintet (www.annaliviamusic.com).
Sponsored by Boston College's Institute for the Liberal Arts and Center for Irish Programs, the event is free and open to the public.
Schedule
12 p.m.
Devlin 101
The Dead (from James Joyce's Dubliners) directed by John Huston
2 p.m.
Devlin 008
Welcome and introduction to Bloomsday Boston 2009
Joe Nugent, Department of English and Irish Studies

2:15 p.m.
Devlin 008
"Mapping Ulysses: How Technology Opens Up Joyce to the Common Reader"

2:45 p.m.
Devlin: 008, 112, 117, 010
Ulysses for beginners: Small group seminars on how to approach the book
Leigh Elion, "Dublintro: Getting to Know the Great Big Book"
Nik Gupta, "Ulysses: Putting the Pieces Together"
Ben Leubner, "Joyspeak: Closely Reading the Masterpiece"
Pat Moran, "Joyce for Dummies"

3:30 - 6:30 p.m.
Devlin 008

Music by Annalivia (see www.annaliviamusic.com)

4 - 5:30 p.m.
Devlin 008
Joyce and the arts: Readings and music, hosted by Brian O'Donovan of "A Celtic Sojourn" on WGBH 89.7 Boston

Readings by actors:
Elise Manning
Elaine Theodore
Steven Barkhimer
Ciaran Crawford

5:30 - 6:30 p.m.
Higgins Atrium
Reception and music by Annalivia. Catered by B.C. Catering

6:30 p.m.
Devlin 101
The Dead (from James Joyce's Dubliners) directed by John Huston