Programs
Attached are links to some of the larger programs sponsored by the Office of International Students and Scholars. For an updated list of other upcoming programs and activities, please see our Newsletter page.
International Assistant Program


The program matches each incoming undergraduate international student with an upper class student, an International Assistant.
Thanksgiving Day Host Program


No plans for Thanksgiving day?....Spend Thanksgiving at the home of a Boston College faculty member or administrator.
Conversation Partners Program



This program matches graduate international students with a member of BC community to practice English conversation skills.
AHANA Leadership Council



The AHANA Leadership Council (ALC) focuses on developing a stronger community among the African, Hispanic, Asian, Native American (AHANA) and ally students at BC. As the voice of students who wish to have a more diverse and inclusive campus, ALC remain proactive advocates by holding the students and administration accountable in order to promote the presence and recognition for AHANA students in terms of race, ethnicity, culture, creed, religion, sexual orientation, disabilities and socioeconomic status.

Visit our website and join us in our cause: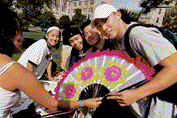 International Graduate Student Support Group

The International Graduate Student Support Group (IGSSG) is a program co-sponsored by OISS, the Office of Graduate Student Life and Counseling Center. The purpose of this group is to provide a safe space to share and discuss any concerns you may have as a graduate international student in the US which may include adjusting to life in the US, academic stress, family issues, etc. Disucssions will be mediated by a graduate international student from China studying counseling in the Lynch School of Education. All information will be kept confidential. For walk-in hours, click here.
Please note that this is a different program than the weekly graduate discussion series which will meet every Friday.