Voices from DIOP
Statements from DIOP Members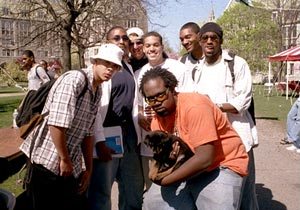 "My DIOP experience has been a very productive one. I have realized that I have a responsibility to other Black males."
"I have only attended two meetings and both times they have been good and worth attending."
"Knowing that there are Brothers out there who want the same goals as me is encouraging."
"DIOP has helped me to deal with personal issues."
"Close network of Black males, emotional connection with the group, the opportunity to discuss relevant issues experience by Black males on campus as well as society."
"In my short time here I have been able to witness the appreciation and concerns for Black men."
"The unity of strong Black men on the Boston College campus is a very powerful thing."
"I am honored to be a member of DIOP. At my first meeting I experienced the Brotherhood that I have been looking for at Boston College."
"My experience has been fulfilling and inspirational."
"Togetherness, family and unity, the essential things I needed while at this predominantly white institution."
"I have experienced strong intellectual growth, inspirational speeches and a beginning of Brotherhood among us."
"I have been completely overwhelmed by the sense of unity and Brotherhood within this group."
"DIOP allowed me to let my guard down and see the brothers around me for the men they were, rather than façades often portrayed outside the group."
"DIOP has been a great experience that I feel is needed for Black men."
"Pure joy! I am so happy that i finally have been able to sit down with a group of individuals that truly understand me."