Shared Lists
Using the Create & Update form, you can choose to share a group with other BC users (see Figure 1). When you share a group with a BC user, you are giving that user access to view and use the group. Only you can update or delete a personal group that you created.


Figure 1.
To share a list with other BC users:
From the Campus Groups menu, select Create and Update.
Choose to Create a New List or Update an existing list.
Type one BC usersname per line in the Share this list with: field (see Figure 1).
Click the Save button. The Step Two: Page will appear (see Figure 2).
Select which type of group you would like to create:

Personal Group - will appear on your MyGroups page. You will be able to send email to the entire group by using the name of the group.
Voicemail Distribution List - will allow you to send a voicemail message to all of the group members at once.
Make Groups available in Other Applications - will allow you to schedule meetings for the group using CorporateTime or share files with the group using MyFiles. Learn more about these other applications.

Click Create & Continue.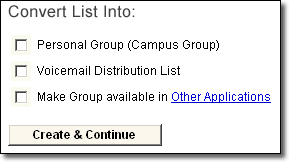 Figure 2.
Using a Shared Address Groups.
Each BC user that you share a Group with will receive an email notification and instructions about the shared group. The name of each shared group is prefixed with the username of the group's originator. The group will appear on the My Address Groups page under the header "Shared with...." You can use the group to email all or selected individuals. Only the originator of the group can add or delete entries to the group and add or remove sharing priviledges. Each person who is authorized to use the group will receive an email receipt each time the owner of the group updates it.