Using Groups in Other Applications
beyond campus groups
When you create a Campus Group, one of the options is "Make Group available in Other Applications" (see Figure 1). This option enables applications like MyFiles@bc to retrieve your group.
Important Notes:
If you are updating an existing group and want to continue using your group in those products, make sure to re-select "Make Group available to Other Applications." If you do not, your group will be removed from external applications.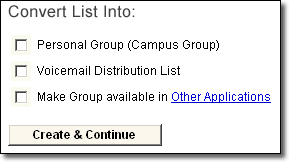 Figure 1.
Which applications?
Your groups will be available within the following applications:
MyFiles@bc
After you've made your personal group available to other applications, you can use MyFiles@bc to share files or entire directories with your group. MyFiles@bc is a new Web-based technology that allows the Boston College Community to securely access, modify, and share files over the Internet.
Note: Anyone authorized to use MyFiles@bc will be able to search for your groups. They will only see the name of your group. The members of the group will not appear.