Program in Global Public Health
global bc
The Program in Global Public Health is an interdisciplinary undergraduate program offered through collaboration among the Boston College Schools of Education, Nursing, and Social Work. It is designed for students who wish to explore global health issues as the basis for a potential career in public health, or who wish to understand the significance of global health challenges for their own futures in other fields. The Global Public Health program has a broad vision, and an important purpose of the program is to draw together advances in the natural sciences with the insights of the humanities and social sciences.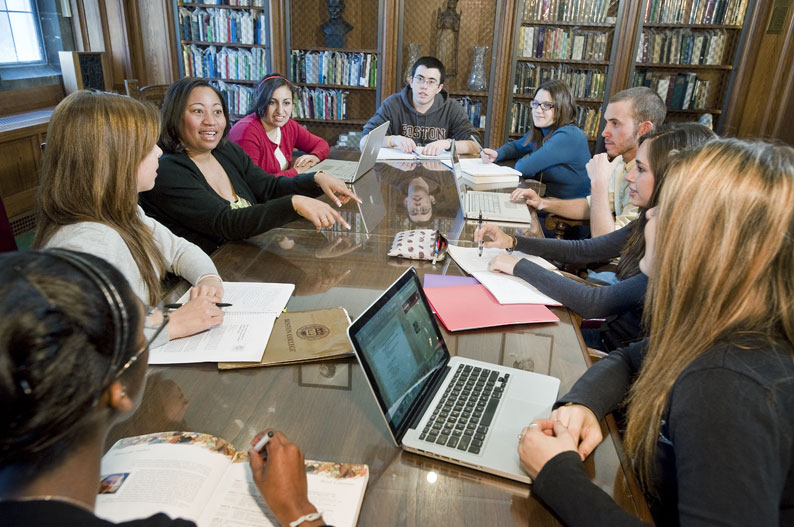 The Global Public Health program begins with a three-course sequence that integrates foundational principles of public health with research on health topics, populations, and settings so that students can learn about the public health field and the application of skills to real-world problems. All courses use a broad view of health that includes physical, mental, and social, and spiritual well-being. In addition, the sequence takes a broad view of global, which transcends national boundaries to include domestic issues in the United States and health challenges around the world. An inherent principle in public health is advancing social justice, and the Global Public Health program focuses on at-risk populations and on reducing health disparities.

Highlights of the Global Public Health Program:
Interdisciplinary collaboration between three schools at Boston College, and foundation courses co-taught by two faculty from different schools;
Takes a global approach to health, connecting local concerns to the burden of disease around the world;
Emphasizes the Jesuit mission of Boston College through study of health disparities and their evidence-based solutions;
Blends the best of liberal arts education and real-world application by studying both how the world works and how to practically contribute to its advancement
The three-course sequence that provides the foundation of the Global Public Health program is composed of the following courses, which must be taken in order:
Course 1 (NURS 1210): Public Health in a Global Society. Offered in Fall 2014 and Spring 2015.
This foundation course presents public health as an interdisciplinary science focused on health promotion and disease prevention at the population level. It provides an overview of the history of public health, the global burden of disease, the sub-disciplines of public health, and emphasizes the collaborative nature of the public health field through examples in research and practice. [This course also counts toward the Social Science Core requirement.]

Course 2 (NURS 3210): Contemporary Issues in Public Health. Offered in Spring 2015.
This course provides students the opportunity to apply the foundational skills of public health to contemporary public health issues. It integrates data and research to begin a more in-depth examination of the major burdens of disease and emerging areas of public health concern. Principles and concepts learned in NURS 1210: Public Health in a Global Society are reinforced through a focus on specific health conditions, behaviors, and topics.
Course 3: Public Health Practice in the Community. Offered in Spring 2016

This course puts public health into practice, with an experience of community engagement and public health activity. Students will develop a deeper understanding of applying public health principles and evidence-based practice in a community setting, locally or globally. Themes stressed in the previous two courses will be reinforced, this time in practice, including: the importance of data and evidence, the interdisciplinary approach to solving public health problems, and a focus on at-risk populations and reducing health disparities.
Students interested in learning more about the Global Public Health program should contact: publichealth@bc.edu