Welcome to The BC Beat—the social media landing page for the Division of Student Affairs. The BC Beat shares news from across Student Affairs' 14 departments and offers a look at life on the Heights. Browse our posts, videos, photos, and view our social media directory for a broader selection of University-affiliated social channels.
On your mark: Class of 2018 strikes a pose

More than 1,900 members of the Class of 2018 posed for a group shot on Alumni Field during Welcome Week. The BC Screaming Eagles Marching Band, skilled in upbeat field formations, helped the Division of Student Affairs organize
the event.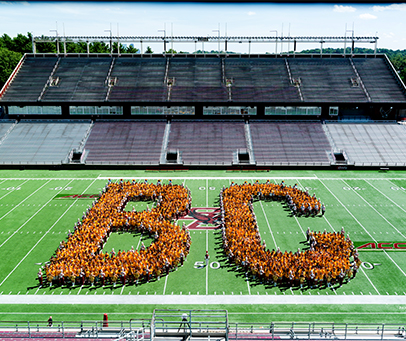 Calendar Events

Arts of the Aboriginals:
A Celebration of Native American Heritage through Dance, Music and Theater
Friday, November 21, 2014
6:00 p.m. | Gasson 100
The Trojan Women
Friday & Saturday, November 21 & 22, 2014
7:30 p.m. | Robsham Theater
Sunday, November 23, 2014
2:00 p.m. | Robsham Theater
Chamber Music in the Afternoon & Evening
Sunday, November 23, 2014
3:00 p.m., 7:30 p.m. | Gasson Hall, Room 100
BC Men's Hockey vs. Maine
Saturday, November 22, 2014
7:00 p.m. | Conte Forum
BC Women's Basketball vs. Bryant
Sunday, November 23, 2014
1:00 p.m. | Conte Forum