Important Links
Thea Bowman AHANA and Intercultural Center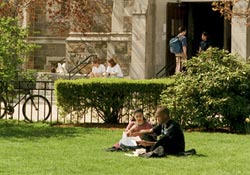 On Campus Resources
Division of Student Affairs
Visit the
Diversity page of the Office for Undergraduate Admissions.
Office of Institutional Diversity
Learning to Learn: a program designed to improve students' critical thinking abilities and provide them with the learning skills they need to succeed in college and beyond.
Career Center can help you identify your major, career interests, internship and job opportunities.
University Counseling Services are available to listen and help. Services include individual counseling and psychotherapy, group counseling, consultation, self-help assistance.
First Year Experience concept at Boston College has dual focus: to introduce the new students to the resources of the University; to assist in the acculturation process whereby these new students come to understand, appreciate, and act upon the uniqueness of BC as a Jesuit university in the Catholic tradition.
Connors Family Learning Center is primarily responsible for providing free tutoring to all students, support services to students with learning disabilities or Attention Deficit Disorder, and instructional support for graduate students and faculty.
Learning Resources for Student-Athletes (LRSA) provides academic and personal support services to all varsity student-athletes with the goal that each student-athlete will be provided a fair opportunity to achieve her/his potential of intellectual, social, and personal development.
Intersections helps Boston College students explore the connections between their talents, their dreams, and the world's deep needs.
Office of Residential Life
Office of Student Affairs
.University Health Services
Black Studies Program
Asian Studies (Slavid & Eastern Languages) Program
Off Campus Resources
Japanese American Citizens League (JACL) is the nation's oldest and largest Asian American civil rights organization whose aim is to address issues of discrimination targeted specifically at persons of Japanese ancestry residing in the United States
The
National Asian Pacific American Legal Consortium (NAPALC) works to advance the legal and civil rights of Asian Pacific Americans through litigation, public education and public policy
National Education Association (NEA) is the nation's leading organization committed to fulfill the promise of a democratic society by promoting the cause of quality public education and advance the profession of education; expand the rights and further the interest of educational employees; and advocate human, civil, and economic rights for all.
National Organization for Women (NOW) is dedicated to making legal, political, social and economic change in our society in order to achieve our goal, which is to eliminate sexism and end all oppression.
Leadership Education for Asian Pacifics, Inc. (LEAP) works to achieve full participation and equality for Asian Pacific Americans by offering leadership training, publishing original public policy research, and conducting community education to advance a comprehensive strategy of Asian Pacific American empowerment.
The
National Association for the Advancement of Colored People ( NAACP) sponsors a variety of programs that are designed to ensure civil rights compliance, equitable treatment of all Americans under law, the attainment of educational excellence, access to health care, and economic empowerment.
Through its publications, special projects, grantsmanship, and other efforts, the
Office of Ethnic Minority Affairs (OEMA) seeks to increase the scientific understanding of how both culture pertains to psychology, and ethnicity influences behavior. OEMA also promotes recruitment, retention, and training opportunities for ethnic minorities in psychology.
The
National Collegiate Athletic Association (NCAA) is a voluntary association of about 1,200 colleges and universities, athletic conferences and sports organizations devoted to the sound administration of intercollegiate athletics.
The
Coalition on Human Needs (CHN) is an alliance of national organizations working together to promote public policies that address the needs of low-income and other vulnerable populations.
The
Latin American Network Information Center is a wonderful directory of scholarly information on Latin American Studies.