Nursing and Health Sciences
research help by subject
Getting Started
Research which leads to Evidence Based Nursing is a very important aspect of nursing care. Information of value in nursing research can be found in a wide variety of sources. Use the links at left for quick access to some of the most frequently used nursing databases.
For more detailed help, see the in-depth research guides and other sources linked to on this page. For help with your specific topic -- or with anything connected with nursing-- contact me via the contact information on the right. – Wanda Anderson, Nursing Librarian.
News & Updates
Recent Additions to the Collection


10/08 Containing trauma : nursing work in the First World War
by Christine E Hallett
O'Neill - New Book Shelf D628 .H35 2009 - BOOK
10/08 A history of the Royal College of Nursing 1916-1990 : a voice for nurses
by Susan McGann
O'Neill - Stacks RT11 .M34 2009 - BOOK
10/07 Acute care : a summary of the October 2009 Forum on the Future of Nursing
by Institute of Medicine
O'Neill - Stacks WY 154 I595a 2010 - BOOK
| View more...
Subject Librarian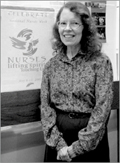 Wanda Anderson