Linking to the Book's Record or Search Results
how do i...?
Post links in your Blackboard course site to a specific record for an item or to a set of search results in Holmes One Search, the primary search tool for BC Collections.
Linking to Holmes - Search BC COllections
Use this address for linking to the primary search tool for BC Collections: http://www.bc.edu/holmes
Linking to a Specific Record
1. Search for the item in Holmes and click on the title to open the full record.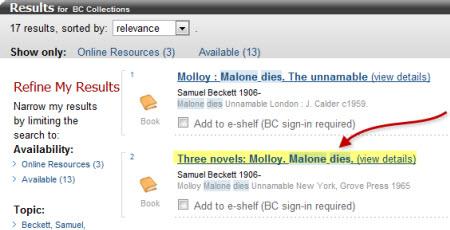 2. Copy the URL (web address) from the address bar and use as your link.
Linking to Search Results
Link to a specific subset of materials by searching Holmes One Search and linking to the resulting URL.
Example: You want your students to find material written before 1967 on the subject of civil rights of the Indians of North America.
1. Do a subject search for civil rights.
2. Select the appropriate facets on the left.
3. Copy the resulting URL (web address) and paste it into your course page.