SuDoc Classification System
how do i...?
Government Documents, received under the Federal Depository Library Program, are organized using the SuDoc (Superintendent of Documents) Classification System. O'Neill Library receives approximately 42% of Depository items in paper, microfiche, CD-ROM, and electronic formats. Holmes will indicate the format of a particular item. Government Documents are located on the 1st floor of the O'Neill Library.

The SuDoc classification system is organized according to the agency that issues the publication. This guide gives an overview of the classification system, describes how to read a SuDoc number and describes how to locate the document in either paper or microfiche format. If you need assistance locating a government document, please contact Sarah Hogan (617-552-3306; hogansa@bc.edu).
How SuDoc Numbers Work
A SuDoc number indicates the document's author (agency and/or sub-agency), and publication type (e. g., series or monograph) using letters, numbers, periods, slashes, and dashes.

Example of SuDoc numbers with each separate part broken down: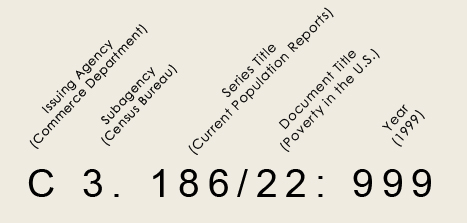 SuDoc Agency Classifications
The first letters of a SuDoc number reflect the department or agency that issues the publication.
The issuing agency is considered the author of a document:
SuDoc

Agency

A
C
D
E
ED
GA
GS
HE
I
J
Ju
L
LC
NAS
S
SI
T
X, Y
Y4

Department of Agriculture
Commerce Department
Defense
Energy
Education Department
General Accounting Office
General Services Adminstration
Health and Human Services Dept.
Interior
Justice
Judiciary
Labor
Library of Congress
NASA
State
Smithsonian Institution
Treasury (includes IRS)
House and Senate Publications
Congressional Committees
Locating Documents
Search Holmes for government documents. In the search results under the Library/Call No. there will be an indication as to the format:
O'Neill Gov. Docs Internet Resource: direct link to an electronic version of the item
O'Neill Gov. Docs Stacks: paper items on compact shelving
O'Neill Gov. Docs Microfiche: microfiche cabinet near stairs
O'Neill Gov. Docs Desk: behind service desk
Government Documents Stacks, Microfiche, and Desk are on the 1st Floor of the O'Neill Library. Please note that some items designated as paper may also be available in microform or online.

Agency classification.
When you locate a SuDoc number in Holmes, documents are first filed by the agency classification letter. The periods between numbers are not decimal points. Numbers to the left and to the right of the period are treated as whole numbers. For example, the following documents are arranged in the correct order:
D 1.2:
D 1.13:
D 1.33:
D 1.105:
Years, Letters and Numbers to the right of the colon.
If the call number is the same up until the colon and then varies, the correct order after the colon is Years, Letters, then Numbers. For example, the following documents are arranged in the correct order:
EP 1.23: 998 ("998" represents the year 1998; after 2000 years include the full four digits.)
EP 1.23: A-62 (The letter "A" comes after the year 1998.)
EP 1.23: 91-44 ("91" is a number so it is filed last.)
Slashes
If call numbers are the same up until the colon except for a slash, the correct order is un-slashed then slashed. In other words, numbers without slashes come before numbers with slashes. For example, the following are listed in the correct order:
C 51. 11: EN 8/995 (Letters before Numbers)
C 51. 11: 23 (Numbers after Letters)
C 51. 11/8: 995-96 ("Slashes" after "No Slashes")
Shelf Order
The following are also listed in the correct order:
HE 20.6520: P92 (After the colon, Letters before Numbers)
HE 20.6520: 3 (After the colon, Numbers after Letters)
HE 20.6520/2: AC9/2 (Slashed numbers after Unslashed)
HE 20.6520/2: 17 (Numbers after Letters)