Social Work Library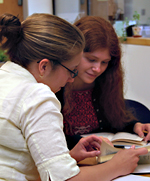 Located in McGuinn Hall, the Social Work Library supports the teaching and research needs of the Graduate School of Social Work.
The Social Work Library contains over 41,000 volumes, 400 serial titles, and many audiovisual titles. The library also has access to hundreds of journal databases and over 23,000 electronic journals. The library maintains extensive course management sites and electronic reserves for faculty and student use.
Librarians are available to help faculty and students with their research in person, by e-mail and by telephone. Twelve public computers are maintained by the library and an additional 15 computers are housed in a small GSSW lab within the library space. Wireless internet access, printing and photocopying are available.
About the Library
Library Services
News & Updates
Over 3 million volumes in the public domain are now fully available through the HathiTrust. Users can access HathiTrust Digital Library with their BC username and password and download full text PDFs. Users can also create and save personal collections of HathiTrust materials on the HathiTrust site. HathiTrust is a partnership of major academic and research libraries collaborating in an extraordinary digital library initiative to preserve and provide access to the published record in digital form. BC Libraries have been a member since the fall of 2011.