O'Neill Library
What's Here?
Tip O'Neill Exhibit
Visit the legacy of the former Speaker of the House.
The Connors Family Learning Center
Receive personal instruction in writing an essay, get tutoring assistance in a difficult subject. The CFLC is located on the second floor.
Government Documents and Microforms
A selective depository for U.S. Government Documents, as well as the location of the microforms collection.
Popular Reading Collection
A collection of books and DVDs (best sellers, books of current interest, theatrical releases) of nearly 400 titles is shelved in the lobby of O'Neill Library as you enter on the 3rd floor. Books can be checked out by Boston College students, staff and faculty only (28 day loan), DVDs for 4 days. Requests can be made to Pop.Reading@bc.edu.

Technology Support Center
The Technology Support Center, located on the main floor of the O'Neill Library (Level 3), brings together self-service printers, scanners, copiers, and a fax machine for use by the BC community. Support for these services, as well as basic computer support, is provided by student employees in the Center.
Group Study Rooms
The O'Neill Library has nine study rooms suitable for group study located on the fifth floor. Each room is equipped with flat screen projection capabilities, white boards and chairs for six. The rooms are intended for group use only and may be reserved online by using your BC user name and password. Seven of the rooms require a reservation, one of the seven is reserved for graduate students only. Two of the nine rooms are designated first come, first serve and do not require a reservation. If you occupy any of the rooms as an individual, you may be asked to leave if a group arrives.
Collections Housed
O'Neill Library holds 1.4 million volumes of the Boston College Libraries research collections in a broad range of subjects reflecting the University's extensive curriculum. These include general reference materials, indexes, the circulating collections, media, government documents, and other research materials housed on the five floors of O'Neill Library and at three remote collection sites. View maps of the O'Neill Library stacks

to find out more about what collections are located here.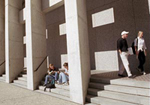 The main research library, the Thomas P. O'Neill, Jr. Library, is located in the center of the main campus, adjoining the O'Neill Plaza.
Contact a librarian in your research discipline
View floormaps of O'Neill Library