Teams of Destiny
virtual exhibit fall 2001 - burns library
Introduction | 1899 | 1920 | 1928 | 1940
The 1928 team won Boston College's second eastern championship. Coached by first-year coach, Joseph McKenney, the team won all nine of their games and outscored their opponents 263 to 39. The team included many athletes recruited by former coach Frank Cavanaugh, including quarterback Al Weston, half-back Patrick Creedon, All-American end Charlie Murphy and captain Warren McGuirk. Memorable games included a 6 to 0 upset over Navy, a 60 to 6 pounding of Manhattan College, a 24 to 0 victory over a Luke Urban-coached Canisius College, a 19 to 7 victory over a Frank Cavanaugh-coachd Fordham University and a 19 to 0 shutout of Holy Cross.
---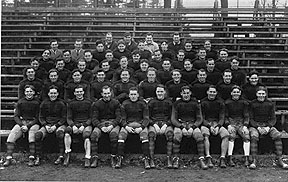 Pictured here is the 1928 football team (going from left to right).
Front Row: Patrick Creeden, John Kilroy, Tom Smith, Al Weston, Warren McGuirk, Donald Sheehan, Edward Herman, John Dixon, Charles Murphy, George Wilczewski.
Row Two: Joe Mirley; Jack Kennedy; John Young; Edward Bond; Bernie Kilroy; Andy Anderson; Henry Plausse; Chessy Antos; Joe Shea; William Hafferty.
Row Three: John Convery; Dave Dillon; Ralph Mallett; Edward Donahue; Ted Duffy; Joe Freno; Frank Lyons; George O'Connell; Martin Whelan; Edward Gibbons.
Row Four: John DiVenuti; Murphy; James Cochrane; George Mason; William Rafferty; Frank DiPesa; Joseph Sullivan; Al Morelli; Henry Buckley.
Row Five: Flynn; John Mahoney; Richard Gorman; McDonald; Edward Aaron; Austin Brosnan, John Marr; George Colbert.
Back Row: William Kelleher; John McManmon; Joseph McKenney; William Ormsby.
---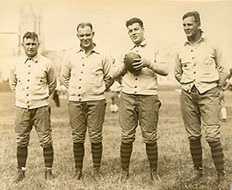 This is a photograph of the 1928 coaching staff. From left to right: William Ormsby; William Kelleher; Joseph McKenney and John McManmon. Head Coach McKenney (Class of 1927), as a student, was the Eagle's 1926 team captain and a co-All-Eastern Quarterback. In 1928, at the age of twenty-three, he became Boston College's coach. During his seven years, his teams had a combined record of 44 wins 17 loss and 4 ties. McKenney later served as an official for both college football and National Football League games. He also presided over a hastily organized fundraising campaign for a new Boston College stadium in 1957 and this remains one of his most important contributions to Boston College. He was named to the Boston College Hall of Fame in 1970, the Professional Football Hall of Fame in 1983, and the National Football Foundation & College Hall of Fame in 1988. He died in 1995.
---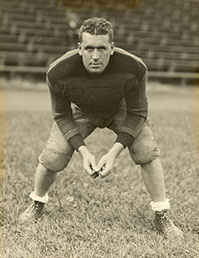 This is a photograph of Captain Warren McGuirk (Class of 1929). One of his greatest sports moments came in the 1927 game against Holy Cross when he recovered the ball after a blocked punt and ran in the game-winning touchdown. McGuirk would later be the University of Massachusetts' Dean of the School of Physical Education and Director of Athletics for over three decades. He was inducted into the Boston College Hall of Fame in 1970.
---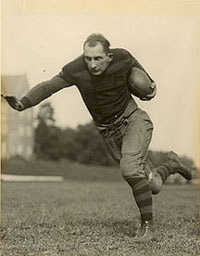 Pictured here is quarterback Al Weston (Class of 1929). Weston was considered one of the greatest running quarterbacks of his day. He was also captain of the baseball team and the first baseman. One of Weston's greatest football moments came in 1928 when ran in the game winning touchdown, and the game's only points, in the 6 to 0 upset over Navy. He was the team's scoring leader in the 1926, 1927 and 1928 seasons. Weston would later play professional baseball with the Boston Braves. He was inducted into the Boston College Hall of Fame in 1970.
---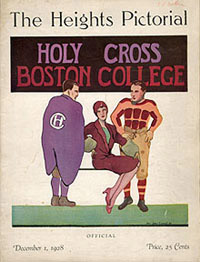 Shown here is the cover of the 1928 Boston College - Holy Cross game program. Boston College won this game 19 to 0 and cleared the last hurdle for the Eastern Championship. The annual game between Boston College and Holy Cross was a historic rivalry between the two premier Catholic colleges of New England. The feelings aroused by the annual match were somewhat akin to today's Boston College - Notre Dame rivalry. The teams first played each other in 1896 and the games continued until 1986 when Holy Cross ended the series. Boston College's record against Holy Cross is 48 wins, 31 losses and 3 ties.
---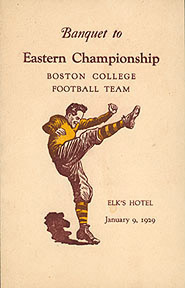 This is the cover of the dinner program held in celebration of Boston College's second Eastern Championship. The banquet was held on January 8, 1929 at the Elk's hotel. Boston College had reason to take pride in the achievement's of Joseph McKenney's team. The school's football program was achieving national recognition as one of strongest in New England. In the decade to come, as sports historian Jack Falla suggests, the next logical step would have been more intersectional matches and possible appearances in college bowl games. Alas, the financial difficulties suffered at Boston College during the Great Depression put these aspirations on hold for a decade.
Introduction | 1899 | 1920 | 1928 | 1940