Thomas P. O'Neill, Jr. and Boston College
virtual exhibit spring 2002 - burns library
Introduction | Background | Student | Speaker | Alumnus | Honors | Conclusion
Thomas P. O'Neill, Jr. was born into an Irish-American family on December 9, 1912, in North Cambridge, Massachusetts. His father, Thomas P. O'Neill, Sr. (1874-1953), was a mason and spent much of his life involved with local city politics. O'Neill, Sr. was also active with the local Democratic Party, his union, the Cambridge Elks Lodge and the Knights of Columbus. Tip's mother, Rose, died while he was still an infant. On her deathbed, Rose made her husband vow to keep the family together and not divide children up among different aunts and uncles. Tip, his older brother William and his sister Mary Rose were watched over by Rose Le Blanc, the family's French-Canadian housekeeper, extended family members and the Dominican nuns of the local St. John Convent.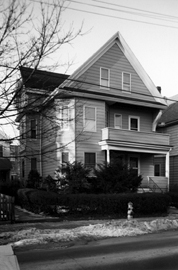 Tip's father moved the family from Fairfield Street to a two-family house located at 74 Orchard Street. The building is pictured here in a photograph taken in 1973. It was a nicer neighborhood and the house was comfortable. The O'Neill family occupied the top two floors and rented out the first level. O'Neill biographer John Farrell described the community as having the feeling of a "small prosperous Midwestern city during the 1920s" with a "wide central avenue, tree-lined streets and a sampling of handsome architecture." In his autobiography, Tip O'Neill described his community as "relatively well off by working-class standards, but you didn't have to go far to find pockets of real poverty." 74 Orchard remained his official residence until his marriage to Mildred Miller in 1941. They remained in the neighborhood, moving to nearby 16 Norris Street.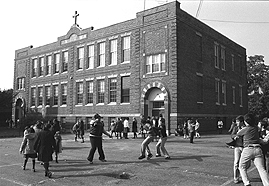 The three milestones of O'Neill's Catholic boyhood, as indicated by Farrell, were First Communion, Confirmation and moving from St. John's grammar school into St. John's High School in Cambridge. The High School is pictured here in a photograph taken in 1980. In his autobiography, O'Neill admitted that he wasn't the greatest student. However, a nun recalled his ability on the debate team and said that he could "talk you deaf, dumb and blind." He was a likeable fellow who occasionally played hooky. The yearbook made the following comment of O'Neill: "Never worried, never vexed, in one day and out the next." Much of his time was spent with the "Barry's Corner Gang" of friends. His pals rented space from "Old Man Barry" and essentially had a private clubhouse. Many of the Gang would remain lifelong friends, and still held reunions into the 1980s.
O'Neill spent much of youthful leisure time playing and watching athletics. He enjoyed playing baseball, football, golf and basketball, and earned money as a caddy at the Arlmont Country Club. In High School, O'Neill was the captain of the basketball team during his senior year. In the photograph of this team, O'Neill is seated in the middle of the center row. Sports provided the source of his well known nickname, "Tip." The first "Tip O'Neill" was James Edward O'Neill, one of baseball's greatest batters, who played with the St. Louis Browns in the 1880's. He earned the nickname "Tip" because of an uncanny ability to foul off pitches until he drew a walk or a soft throw from a pitcher. Many boys had the nickname "Tip." Both O'Neill brothers as children had "Tip" as a nickname. Originally, Bill was known as "Tip" and Tom as "Little Tip." However, the name stuck with Tom throughout his life.
Photo credits:
R. Cheek photograph. Cambridge Historical Commission
Office of Communications, University Archives, Burns Library, Boston College
Thomas P. O'Neill Papers, Burns Library, Boston College
Introduction | Background | Student | Speaker | Alumnus | Honors | Conclusion