Boston College Eagle
virtual exhibit summer 2005 - burns library
Introduction | Adoption | Mascot | Symbol | Conclusion
Conclusion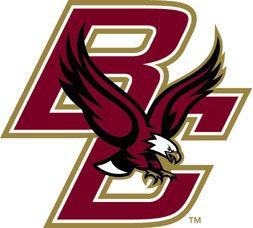 Boston College unveiled a new logo for Boston College athletics in 2000. The logo is a modernized version of past logos that incorporate the interlocking letters "BC" with an eagle in the center. It appears on all varsity uniforms, athletic facilities, official athletic department publications and a variety of clothing and giftware. The university also designed a logo incorporating the image of the mascot Baldwin for use as a secondary logo and in children's marketing.
Image courtesy of Media Relations Department, Athletic Association, Boston College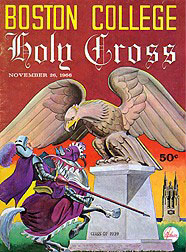 A second eagle statue is located in front of the Silvio O. Conte Forum, near Alumni Stadium. Conte is the main arena for the basketball and hockey teams and houses the offices of most of the university's coaches and other athletic staff members. The statue was given to the university by the Class of 1939 and, in fact, predates Conte. It originally stood in front of the Roberts Center (the facility that Conte Forum replaced). Reproduced here is the cover from the 1966 program of a football game played between Boston College and the College of the Holy Cross. The artist shows his interpretation of this eagle statue confronting the "crusader" of Holy Cross.
The eagle's importance has expanded beyond a mascot's typical role as a rallying point for athletic events. Though adopted less than a century ago, the eagle was quickly integrated into the University's institutional identity, and has become the paramount public symbol representing Boston College to the outside world.
Photograph courtesy of Office of Marketing Communications, Boston College
Introduction | Adoption | Mascot | Symbol | Conclusion