Exhibit Highlights
burns library
Francis Xavier & the Jesuit Missions in the Far East: An Anniversary Exhibition of Early Printed Works, from the Jesuitana Collection of the John J. Burns Library, Boston College
Original Exhibit Fall 2006
---
This year marks the 500th anniversary of the birth of Francis Xavier (1506-1552), one of the most eminent figures of the early Society of Jesus and perhaps the most popular among the Jesuit saints. In commemoration of this milestone, the Jesuit Institute and the Burns Library are pleased to offer this exhibition of early printed works relating to his biography and posthumous cult, as well as to the subsequent Jesuit enterprise in the Far East where Xavier labored for ten years and died on a small desolate island off the coast of China.
---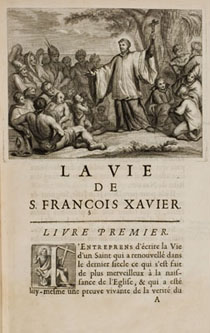 As the first Jesuit missionary, Xavier sent home extensive accounts of his adventurous experiences in India, Ceylon, Japan, and various other islands now part of modern-day Indonesia and Malaysia. He, thus, helped open new worlds not only for his Jesuit confreres, but also for his European contemporaries in general. The latter proved avid consumers of printed editions of his letters from the field, of biographies written of him, and of other accounts - both educational and entertaining - of his encounters with the exotic peoples and cultures of those faraway lands then known as the East Indies.
---
For Further Study: The Burns Library houses an extensive collection of books and manuscript material relating to the Jesuits especially Francis Xavier. View the exhibit catalogue

or contact a library staff member for details.
---
« back