Exhibit Highlights
burns library
Thomas Mann Revisited
Original Exhibit Fall 1997
---
Most of the items on display in this exhibit were loaned to the Burns Library from Dr. Joseph Brennan, Boston College Class of 1933 and Professor Emeritus of Philosophy at Barnard College and the U.S. Naval War College. Indeed, it was Dr. Brennan who supplied not only the materials but also the concept for the exhibit. His long-time interest in Mann is indicated by his many books and articles on the famous German author who won the Nobel Prize for Literature in 1929. Aware that a number of new biographies and new English translations have followed the recent release of the complete text of Mann's diaries and that this has caused renewed interest in the relation between Mann's storytelling art and his personal life, Dr. Brennan conceived the idea of displaying from his own collection material relating to Mann and his work.
---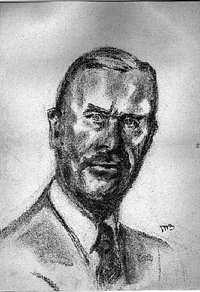 This portrait of Thomas Mann was done in charcoal by Mary McLeod Brennan after a visit with Joseph to Thomas Mann and his wife Katia at their house in Princeton, New Jersey, in 1941. Mary lived in Stony Brook with her husband until her death in January of 1996. They would have celebrated their 59th wedding anniversary on June 7th, 1997, one day after Mann's birthday date, June 6th.
---
For Further Study: This exhibit was first mounted at the Emma S. Clark Memorial Library of the Naval War College in June of 1996, with the assistance of Constance Sobel. For additional information on holdings of the Naval War College relating to either Joseph Brennan or Thomas Mann, contact a member of the library staff at that institution. The Boston College Archives also houses a small collection of papers of Joseph Brennan. More information on these materials can be had by contacting a member of the Burns Library staff.
---
« back