Exhibit Highlights
burns library
The Life and Career of Thomas P. O'Neill, Jr.
Original Exhibit Fall 1997
---
This exhibit offers a survey of Thomas P. "Tip" O'Neill, Jr.'s life and political career. It includes material on several aspects of the Massachusetts Congressman's contributions to public life. Items in the exhibit date from the early 1950s to the mid 1990s.
---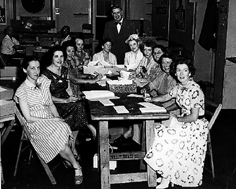 From 1936 to 1952 Tip O'Neill served in the Massachusetts House of Representatives, eventually rising to the position of Speaker. In 1952 he ran for the United States House of Representatives, and was elected to the seat once held by John F. Kennedy. For the next thirty-four years, O'Neill represented the 8th District, which included Cambridge, Somerville, Belmont, Arlington, and Watertown. The picture at left was taken in August of 1952 at O'Neill's Congressional Campaign Headquarters.
---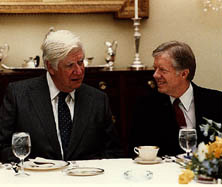 Tip O'Neill enjoyed a successful career in the United States Congress. In 1971 he was appointed Majority Whip, and in 1973 he was elected Majority Leader. Four years later, in 1977, he became Speaker of the House of Representatives. During his years in the Congress, O'Neill worked closely with other legislators and elected officials and played an important role in the debate over public issues of the day. Here the Speaker is shown at a White House Luncheon with President Jimmy Carter in January, 1980.
---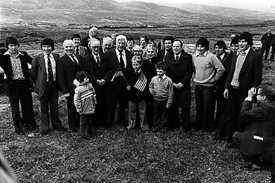 For all his success in American political life, Tip O'Neill never forgot his ethnic roots. He once explained that he grew up in an atmosphere where he knew he was Irish before he knew he was American. This was understandable, since the Speaker's grandfather had emigrated to the United States from Ireland back in 1845. Throughout his life and career, O'Neill exhibited a sincere concern for issues relating to Ireland. Here he is shown visiting relatives in Buncrana, Ireland, in April, 1979.
---
For Further Study: All of the items in this exhibit come from the Thomas P. O'Neill Papers, which are housed in the Congressional Archives at the Burns Library. The papers document the work of O'Neill, and a published guide is available. For further information, contact a library staff member.
---
« back