Exhibit Highlights
burns library
Commander John J. Shea's "Letter to Jackie"
Original Exhibit Spring 2002
---
On June 25, 2001, the Boston College Archives was given the original copy of the famed "Letter to Jackie" by Classical Studies Professor Jack Shea (the original Jackie). The values that Commander Shea wanted his son to live by resonated with Americans during World War II, a time of great uncertainty. It celebrated core American values: religious faith, devotion to family and the love of one's country. This exhibit explores the life of Commander John J. Shea (Class of 1918) from his student days through his military career and the continued impact of the letter after his death.
---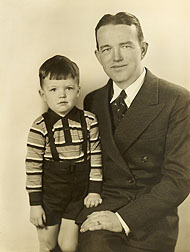 Commander John J. Shea wrote the letter to Jackie, his five-year-old son, just weeks before he was killed at sea on September 15, 1942 when the aircraft carrier USS WASP was sunk by the Japanese in the Guadalcanal Campaign. Here is the portrait of Commander John Shea and Jackie.
---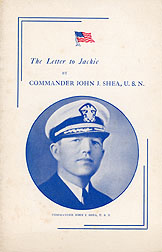 The letter was printed and quickly gained a wide national circulation. It was published by the Boston Public School system as a pamphlet entitled The Letter to Jackie in 1942. The cover of the publication is reproduced here.
---
For Further Study: Researchers and others are invited to view the exhibit and other holdings in the library relating to Commander Shea. Burns Library staff are happy to answer questions regarding the collection.
---
« back