Exhibit Highlight
burns library
"Mr. Shaw's Time is Filled Up for Months to Come"
Original Exhibit Fall 2004
---
The first public exhibition of material from the internationally-noted George Bernard Shaw Collection. Acquired in 2002 by the Burns Library, it contains over 3400 Shaw-related items amassed by private collector Samuel Freedman, a rare books and manuscripts dealer. The collection includes over 3000 books and other printed materials as well as 400 other items including manuscripts, letters, photographs and artwork. It documents the great Anglo-Irish author's multifaceted life, from his dramatic and literary works to his social activism. The acquisition was made possible by the library's Brian P. Burns Endowed Acquisitions Fund.
---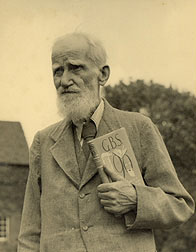 Portrait of George Bernard Shaw at his ninetieth birthday in 1946. He is holding a festschrift, in honor of that birthday, entitled G.B.S. 90 Aspects of Bernard Shaw's Life and Work published by the New York publisher Dodd, Mead and Company.
---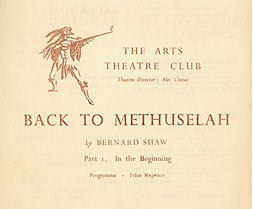 Program cover from the play Back to Methuselah performed at the Arts Theatre Club in London in 1947. Shaw used his plays to expound on his many social and economic theories and this play reflects his views on the perfectibility of man.
---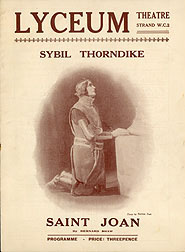 Program cover from a 1926 performance of the play Saint Joan staring the noted actress Sybil Thorndike. The play was written by Shaw for Thorndike and ran for 244 performances. It was revived repeatedly until her final performance in the role in 1941.
---
For Further Study: The Burns Library houses an extensive collection of books and manuscript materials relating to the life and work of George Bernard Shaw. More information on the holdings of the Burns Library is available at the library's website. Researchers may also contact library staff with specific questions.
---
« back