Exhibit Highlights
burns library
The Birth of the Romanian State
Original Exhibit Fall 1997
---
This exhibit deals primarily with the various events which led to the birth of a united Romanian State at the conclusion of World War I. Special attention is given to the military and political aspects of this complex subject. Books from the Burns Library's Balkan Studies Collection, especially those of Professor Radu Florescu of the Boston College History Department, form the basis of the presentation.
---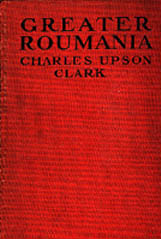 Charles Upson Clark (1875-1960) was a professor at Columbia University and the author of many books on a variety of subjects. Clark also maintained a great interest in Romania and its people. This interest led him to published several works on this subject. The book at left was published by Dodd, Mead, and Company in 1922. It provides a general introduction to Romanian geography and culture, and includes several chapters on the country's history and international relations in the early twentieth century. Clark's library was acquired by Professor Florescu, and now forms part of the Burns Library Holdings.
---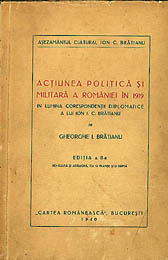 Gheorghe Bratianu (1897-1953) was an historian and leader in Romania's liberal party. He wrote many books about his country, including the one at left, which deals with events from November 1918 to September 1919. Published in Bucharest in 1940, the title includes maps, photographs, and an index.
---
For Further Study: The Burns Library houses several thousand titles dealing with the history and culture of Romania and other Balkan states. A small collection of papers of Charles Upson Clark also resides in the library. For more information, please contact the Senior Reference Librarian.
---
« back