Exhibit Highlights
burns library
A Poet's Notebooks from the Nuala Ni Dhomhnaill Collection
Original Exhibit Fall 1998
---
During the 1998-1999 academic year the Irish poet Nuala Ni Dhomhnaill is the Visiting Scholar in Irish Studies at the Burns Library. Ni Dhomhnaill has published numerous works in the Irish language. The exhibit features photographs, original manuscripts, and publications.
---
At left is the front cover of Ni Dhomhnaill's Spionain Is Roiseanna, published by Clo Iar-Chonnachta of Conamara, Ireland. Also available with the book is an audio cassette which features the poet reading from her work.
---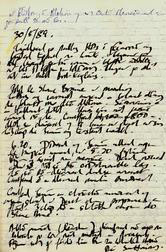 This image shows a page from one of the poet's notebooks. This particular entry is dated May 30, 1989. The text is in Irish.
---
For Further Study: The Burns Library holds an extensive collection of Ni Dhomhnaill's personal papers. Among them are correspondence, diaries, notebooks, and other items. In addition, both the Burns Library and O'Neill Library house various publications of the poet. Consult one of the library staff for more information.
---
« back