Exhibit Highlights
burns library
Irish Literary Collections
Original Exhibit Summer 2000
---
This exhibit features items from the Irish Literary Collections of the Burns Library. Included are original correspondence, manuscripts, books, photographs, and artwork relating to key figures in the development of 20th century Irish letters.
---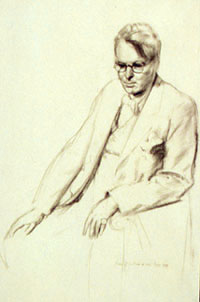 The Burns Library houses the largest collection of manuscripts of William Butler Yeats outside of Ireland. It includes correspondence, poetical notebooks, and drafts of various works. The library also possesses a copy of Yeats' first published work, the rare Mosada. In addition, materials relating to other members of the Yeats family are available.
---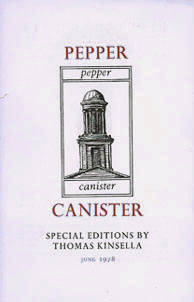 Thomas Kinsella, another poet who like William Butler Yeats was interested in the art of fine printing, started his own press, the Peppercanister, issuing his first work in 1972. Under the Peppercanister imprint, he has published limited editions of his own poems handsomely designed, illustrated, and bound. Kinsella maintained a close relationship with the operators of another important publisher, the Dolmen Press.
---
For Further Study: More information on holdings of the Burns Library is available at the library's website. Researchers may also contact library staff with specific questions.
---
« back