Exhibit Highlights
burns library
Haitian Paintings
Original Exhibit Winter 2001
---
This exhibit features a selection of paintings from the Arthur Morrissey Haitian Painting Collection. Dr. Arthur Morrissey collected the paintings in the late 1960s while working as a volunteer with Catholic Charities. The collection consists of more than 30 framed paintings by various Haitian artists, mostly done in the 1950s and '60s. Artists include Prefete Duffaut, Fritz Merise, Seneque Obin, and Dieùdonne Rouanez.
---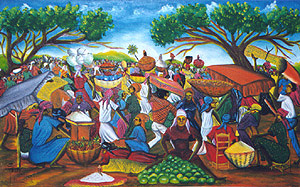 Depicted at left is a market scene painted by Fritz Merise in 1967. Merise is best known for his creation of fantasy jungle scenes with animals that portray the feelings and follies of human beings. The market scene held by the Burns Library shows his gift for using color and pattern to express the vibrancy of his culture. He also reveals a gentle sense of humor in his painting.
---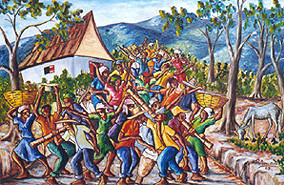 This village dance scene was painted by Dieùdonne Rouanez in 1967. Rouanez is now in his late seventies and has been painting for over forty years. He studied under Gerard Valcin at the Centre d'Art and is best known for his paintings portraying voudou themes. He has exhibited in Haiti, Brazil, Italy and France, and his works are included in the permanent collection of the Musée de l'Homme in Paris. Rouanez also studied at Le Foyer des arts Plastiques, an institute formed to counter the "naif" style fostered by the Centre d'Art.
---
For Further Study: The Burns Library houses an extensive collection of books and other materials relating to the study of Caribbean culture and history. Contact a library staff member for details.
---
« back