Exhibit Highlights
burns library
A Poet at Work: Brendan Galvin's Papers at the Burns Library
January 19 – July 16, 2010
---
This exhibit uses the extensive manuscripts Brendan Galvin donated to the John J. Burns Library to illustrate his ways of making poems. Clippings of articles on a subject, often an aspect of natural history, are followed by research notes, sketches, drafts, and the gradual emergence of versions leading to the final poem as published.
---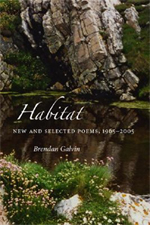 Brendan Galvin is an Irish-American poet born in Everett, Massachusetts and now living in Truro on Cape Cod. Galvin graduated from Boston College in 1960 with a Bachelor of Science degree in the natural sciences. He holds both an MFA and a PhD from the University of Massachusetts. His poetry reflects his knowledge of and interest in nature.
Brendan Galvin has published twenty-one books and chapbooks of poetry. Atlantic Flyway (1980) was short-listed for the Pulitzer Prize, and Habitat: New and Selected Poems 1965-2005 was a National Book Award finalist in 2005. In April 2009 Galvin received the Arts Council Alumni Award for Artistic Achievement.
Related Links
View a list of Galvin's books available for check-out from O'Neill Library
Read Makings of a Poet, Boston College Magazine, Summer 2009
Watch Inside the BC Studio with Brendan Galvin, BC Front Row, April 2009