Exhibit Highlights
burns library
Chile: 1810 – 2010
September 20th – December 15th, 2010
O'Brien Fine Print Room
To view this exhibit please see the Burns Library Hours.
In honor of the two hundredth anniversary of the Declaration of Independence of Chile, the Burns Library hosts an exhibition of watercolors, prints, books, medals, historical letters, and significant documents on loan from Dr. Paul W. Garber and Dr. Philip C. Garber, Honorary Consuls of Chile in Boston, MA, now in their 37th year. Through these artifacts we illustrate some of Chile's history, industry, culture, arts, and also associations with New England.
Situated between the Andes Mountains and the Pacific Ocean, Chile encompasses amazing climatic and geographic contrasts from the Atacama Desert in the North to the fjords and glaciers of Patagonia in the South, more than 2666 miles in length. Like the landscape, the people and cultures that make Chile what it is today are many and varied – from indigenous Mapuche and Diaguitas Indians, to Spanish, Italian, German, Yugoslav, British, and Lebanese immigrants.
The Burns Library invites you to join us for the Bicentennial Celebration of Chile.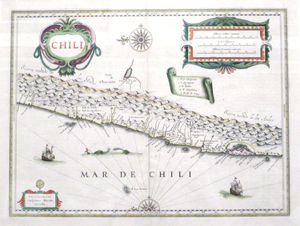 Map of Chili by William Blaeuw, Amsterdam, 1620 – 1640
This 17th century map by Willem Blaeuw shows sea monsters; but whether these are decorations or indications of possible denizens of the ocean is open to question. A vestige of medieval cartography – a manifestation of the idea of the "moyen âge long" – allows mythical elements to persist alongside mathematical calculations. In later maps, the fictional depiction is clearer.
On loan to the Burns Library from the collection of Paul and Philip Garber.