Exhibit Highlights
burns library
Caribbean Art: Haitian Paintings & Jamaican Anansi Stories
February 1 - March 31, 2010
---
This exhibit features twenty paintings from the Dr. Arthur M. Morrissey Haitian Paintings Collection; several Haitian paintings acquired from former Houghton Library curator Anne Anninger and selected stories from the Anansi Folktales Collection.
---
Haitian Paintings
Dr. Arthur M. Morrissey, a 1929 graduate of Boston College and an ophthalmologist, collected these paintings in the late 1960s while working as a volunteer with Catholic Charities. The entire Morrissey Collection consists of more than 30 framed paintings by various Haitian artists. Dr. Morrissey collected these paintings during the decade or so of his visits to Haiti, from 1964 to 1975, when he worked chiefly at Port-de-Paix giving his services as an ophthalmologist for a least one month a year during that period. Artists include Fritz Merise, Sénèque Obin, Dieùdonne Rouanez, Abelard Gesner, Poisson Louverture and others.
This country dance scene above was painted by Dieùdonne Rouanez in 1967. Rouanez studied under Gerard Valcin at the Centre d'Art and is best known for his paintings portraying voudou themes. He has exhibited in Haiti, Brazil, Italy and France, and his works are included in the permanent collection of the Musée de l'Homme in Paris. Rouanez also studied at Le Foyer des arts Plastiques, an institute formed to counter the "naif" style fostered by the Centre d'Art.
Jamaican Anansi Stories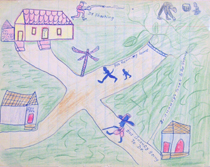 At left is an example of one of the nearly 5000 hand-written folk stories submitted by school children in a 1931 contest organized by Jesuit missionary and ethnologist, Father Joseph John Williams (1875 – 1940). These folktales about the clever spider character, Anansi, were recorded from the memories of the children and their elders. Some manuscripts include illustrations, musical scores and lyrics.
In the Oxford Encyclopedia of Children's Literature, Amanda Cockrell writes, "Anansi, also spelled Anancy, is a trickster figure of West African folklore. Like most tricksters, Anancy can be both comic and heroic. Brought by African slaves to the West Indies, he is a spirit of rebellion and of the underdog, a symbol of creativity, craftiness, and freedom who can upend the social order, marry the princess, and defy death."
The Burns Library's Anansi Folk Tales Collection is the largest collection of Anansi folk tales in existence. It is also part of the Williams Ethnological Collection. This collection includes more than 10,000 volumes and eleven linear feet of manuscript materials documenting the history, life and culture of the people of the British West Indies and their African antecedents.