Exhibit Highlights
burns library
Boston College: The First Century, 1863-1963
Original Exhibit Fall 1998
---
Boston College was founded in 1863. During its first 100 years the school experienced a tremendous amount of growth and change. This exhibit documents some of those changes. Included are paintings, photographs of people and buildings, publications, and other items.
---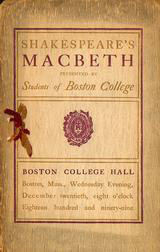 Throughout the early years of its existence, Boston College educated many young men from the Boston area. Students pursued a challenging academic curriculum under the guidance of the Society of Jesus. Yet they also participated in various extra-curricular activities. Dramatic presentation has a long tradition within the Jesuit Order and at Boston College. Plays are known to have been staged from at least 1868. Shakespearean plays were a favorite. At left is pictured a program cover from 1899.
---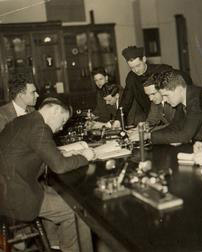 In 1913 Boston College moved its main campus from the South End of Boston to suburban Chestnut Hill. Until World War II only a few buildings occupied The Heights. One of the early buildings was Devlin Hall, which accommodated classes in the natural sciences. In this picture from 1938 a group of students is shown carrying out an experiment in the Physics Lab.
---
For Further Study: The Burns Library is home to the University Archives. The Archives document the long history of Boston College, from its establishment to the present day. Those interested in learning more are encouraged to contact one of the members of the library staff.
---
« back