Exhibit Highlights
burns library
The African-Caribbean Connection
Original Exhibit Winter 2001
---
This exhibit centers around four topics: the History of the Jamaican Maroons; the Atlantic Slave Trade; Jamaican Anancy Stories; and the British & American Abolition Movement. It features materials from the extensive Nicholas M. Williams Memorial Collection. Assembled by the Jesuit missionary and ethnologist Joseph Williams, and named in honor of his father, this collection includes more than 10,000 volumes and eleven linear feet of manuscript materials documenting the history, life and culture of the people of the British West Indies and their African antecedents. This includes the largest manuscript collection of Anancy folk tales in existence.
---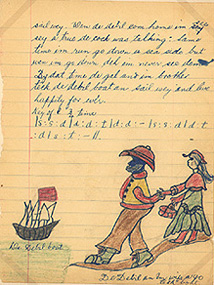 This is an example of one of the nearly 5000 hand-written folk stories submitted by school children in a contest held by Father Williams in 1931. These folktales about the clever spider character, Anancy, were recorded from the memories of the children and their elders. Some manuscripts include illustrations, musical scores and lyrics.
---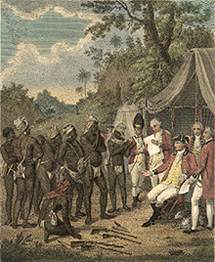 In 1655 Britain captured Jamaica from Spain, the Spaniards fled, and their slaves escaped to various parts of the island. These former Spanish slaves were known as the Maroons. They not only encouraged other slaves to run away but raided plantations and set slaves free. Escaped slaves often joined the Maroons. In 1738, the British negotiated a peace treaty with the Maroons after failing to conquer them by military force. To the left is a color-lithographic print from 1801 entitled "Pacification with the Maroon Negroes" that illustrates these peace negotations.
---
For Further Study: More information on the Nicholas M. Williams Memorial Collection and the other holdings of the Burns Library is available at the library's website. Researchers may also contact library staff with specific questions.
---
« back