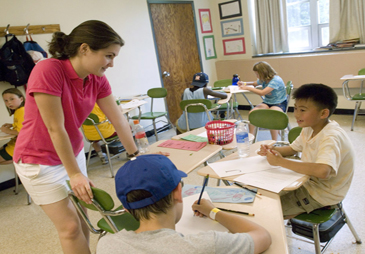 The Height of Summer. Even during the dog days of summer, the Heights is alive with activity. Pictured above, Alex Faklis '08 tutors some of the more than 100 students aged 3-14 from the local community who spend nine weeks on campus through the St. Columbkille Summer Program. Also on campus:
Some 4,000 students are enrolled in summer session classes at both the undergraduate and the graduate levels.

More than 2,000 members of the Class of 2011 attend orientation sessions to prepare for the fall.

The 92 players on the 2007 Eagles football team are busy practicing for their home opener on September 1 against Wake Forest.
Alumni in the News

Zach Bouchard '03. Photo courtesy of Concord Monitor.
Zach Bouchard '03 is the founder of greenshopper.com, a website where shoppers can browse and buy environmentally friendly products. More
Salvatore DiMasi '67, the Massachusetts speaker of the house, is emerging as a top power on Beacon Hill. More
James Hubert, JD'82, has been nominated to serve as a judge in Westchester County, New York. More
More news stories about alumni
Alumni Summer Reading
Giovanna's 86 Circles: and Other Stories, by Paola Corso '79, features Italian American women and girls whose adventures enliven a dying steel town.
My Quarter-Life Crisis, by Kevin Penwell '97, published under the penname Lee Wellman, chronicles the author's struggle with an unexpected and debilitating anxiety disorder.
The Wild Horses of Shackleford Banks, by Carmine Prioli, MA'71, offers, through photography and text, an overview of the herd of wild horses that has occupied an island off North Carolina for hundreds of years.
Reunion Birthrights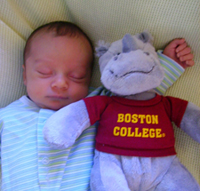 Born on Reunion Weekend, future Eagle Zachary Paul Angelis dreams about the campus master plan.
On the Friday night of Reunion Weekend, Dimitrios Angelis '92 and his wife, Helen, were eating dinner and catching up with close friends Lou Kodumal '92 and Jason Panos '92, along with former Dean for Student Development Bob Sherwood, now a special advisor to the Alumni Association.
Over dessert and coffee, the group was joking about Helen's late-term pregnancy and the excitement that would ensue if the baby were born over Reunion Weekend. Helen, however, was confident that her due date of a few weeks later would hold true.
The next day, while enjoying the 15th class reunion party on the Campus Green, Helen felt her first contraction. The following night at 8:15 p.m., the eagle deposed the stork and Zachary Paul was born, weighing 6lbs.13oz.
On the serendipity of the occasion: "If anyone ever deserves a legacy advantage to get admitted to BC, this kid does," laughs Bob Sherwood. "Can you imagine the first paragraph in his admissions application?"
Pre-orientation
Beginning later this month until the end of August, some 1,000 incoming first-year students and their families will gather in 19 cities across the country as part of a longstanding BC summer tradition. Each year, the First-Year Send-off program welcomes the newest members of the BC community weeks before freshmen step on campus in the fall. Hosted by BC parents and alumni, send-off parties bring together current students, alumni, and their families from the same geographic area to meet one another and begin to build relationships.
Bob Rizzi and Buffy Ellis, parents of Warren Rizzi '08, are hosting their first send-off party at their home in the DC area in August. "BC has been such a good college experience for Warren," says Buffy. "In honor of his upcoming senior year, we wanted to share that experience with other families whose kids will be entering BC in the fall."