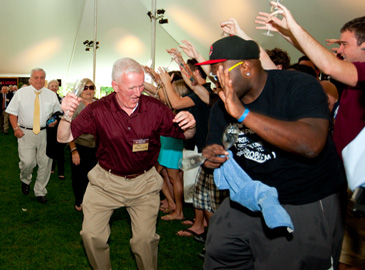 Shake a Tail Feather! – As members of the Class of 1960 exited the traditional event in which members of the graduating class are inducted into the Alumni Association and toasted by the Golden Anniversary Class, Richard "Moe" Maloney '60 joined some of his soon-to-be fellow alumni from the Class of 2010 in exuberant dance. The May 20 event, held under a tent on Bapst Lawn, was hosted by the Senior Class Gift Committee. Maloney and the rest of the Golden Eagles will join about 5,000 other alumni and family members at Reunion Weekend June 4-6. (Photo by Rose Lincoln)

A special edition of Alumni Connections will feature coverage of Reunion Weekend 2010. Watch for it in mid-June!
There's an App for That!
Download the Boston College iPhone App today to keep in touch with the latest news, sports, events, and more at Boston College! Click here to download the app.





Alumni Participation Challenge at the Finish Line
Thousands of alumni, parents, and friends have responded to the call to help BC reach the Alumni Participation Challenge goal for fiscal year 2010. We're still tallying totals at the beginning of June and will send an e-mail report to alumni soon. Thanks to all who assisted in the effort to attain a record number of donors and gain an additional $500,000 for financial aid. More
Video Highlights of 2009-10 at BC
For nearly a decade, William Stanwood, adjunct associate professor of communication, and students in his Advanced Video Production course have partnered with the Alumni Association to create an annual "alumni video newsletter," a look back at the year on campus. Check out this year's video. The students handle all aspects of the project, from writing the copy to editing and directing the video, all under the guidance of Professor Stanwood. Special thanks to Tom Martin '61, former Alumni Association president, and his company, Cramer Productions, for their gracious support of this project each year.
Reunion of Woods College Alumni
All alumni of the University's intown School, Evening College, and College of Advancing Studies are welcome to the Woods College of Advancing Studies annual reunion reception, Thursday, June 3. James Woods, S.J., dean, will be host at 2101 Commonwealth Avenue, Brighton Campus, familiar to many as the former Cardinal's residence. More
Upcoming Alumni Events

"Keeping the Peace: Law Enforcement in a Complex World" - Law Enforcement Alumni Network - Wednesday, June 2

REUNION 2010 EVENTS
Alumni 5K Fun Run - Open to all alumni – Saturday, June 5
RECONNECT@Reunion - Saturday, June 5
For more information, contact Eva Maynard at 617-552-4757 or eva.maynard@bc.edu.

"Beyond Age: Life Stage, Career Stage, and a Job You Love" - Monday, June 14

For more events, click here.
Featured Alumni

Monica Roberts
Monica Roberts, MA'01, MBA'08, has been appointed executive director of Peace First Boston, which fosters safe, effective school environments. More
Joan Lopresti Rees '83 is New Hampshire's special education teacher of the year. More
Sean Joyce '82 is the FBI's new lead intelligence official. More
BC's 134th Commencement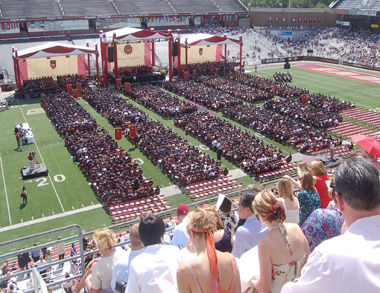 Nearly 2,400 undergraduate members of the Class of 2010 joined the ranks of BC alumni May 24 at the University's 134th Commencement, in Alumni Stadium. Forty-two hundred undergraduates and graduate students received degrees in 2010, including 143 doctorates. BC Law School graduates received their degrees May 28. Three alumni were among those receiving honorary degrees. Honorary degree recipients and citations. Speaker was Jeffrey Immelt, CEO and chairman of General Electric. More A copy of the Webcast of the ceremonies is available here and a video showing pre-commencement preparation and events can be seen soon at www.youtube.com/bcchronicle.
Among Our Newest Alumni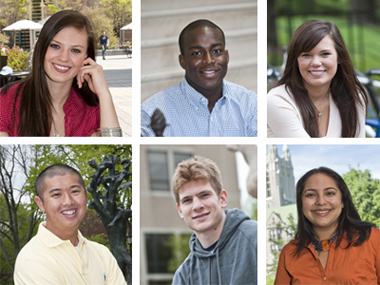 BC's Office of News & Public Affairs offers "six to remember"—short profiles on some of the most outstanding members of the Class of 2010 (clockwise from top left): student athlete, singer-songwriter Ayla Brown; Gerrel Olivier, recipient of the 2010 Finnegan Award to the student who best exemplifies "Ever to Excel"; Alexi Chi, former editor-in-chief of the Heights; Maria Alejandra Rivas, president of Artists Striving to End Poverty (ASTEP); Ben Smith, assistant captain of the national championship men's hockey team and leader of the Help Educate through Athletic Responsibility (HEAR) program; and Al Dea, former UGBC president.
Korea Alumni Gather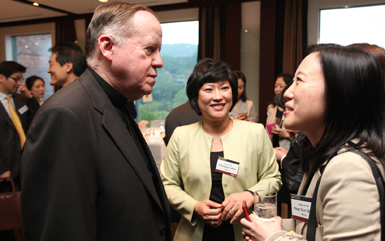 William P. Leahy, S.J., University president, chats with Haye-Sun Byun, JD'99 (right), and Christine Ahn '83, P'13, during a reception in South Korea, May 11. More than 60 alumni and friends attended the Korea Chapter event at the Shilla Hotel, Seoul.
Visit Retired Jesuits
Campion Center in nearby Weston is home to about 70 retired Jesuits, including many former BC faculty and staff. They welcome BC alumni as vistors and volunteers. If you can visit a Campion resident once a month, provide a slideshow or presentation, or be available to help with an occasional errand, please contact Meghan Farrell-Talmo, activities director at Campion, at 781-788-4757 or MFarrell@CampionCenter.org.
Alumni for Others on National Day of Service
More than 300 volunteers participated in 26 chapter activities in May as part of the fifth annual National Day of Service, sponsored by the Alumni Association. Here's a gallery of photos from these activities submitted by chapters from New York City to Hawaii.
Energy, Environment . . . and Economy

Frances Dubrowski
More than 150 alumni and friends attended "Alumni Networking Night – Financing the Transition to a Green Economy" May 26 in New York City. University Trustee Kathleen Corbet '82 moderated a discussion by a panel that included Frances Dubrowski, Esq., NC'70, P'09 (left). This was the second such event sponsored by the new BC Energy and Environment Alumni Network (BCEEAN). More than 300 alumni have already joined this affinity group. If you are interested in participating, please send an e-mail to envrn@bc.edu and include your name, class year, job title, and company.
Alumni Travel: Savings on Early Bookings
Alumni, families, and friends—take a few moments to see what's on the Alumni Association travel study Web site for 2011. Early booking savings are available for trips to Israel and Australia/New Zealand, and for the "Mayan Mystique" cruise. Additional new destinations for 2011 include China and Tibet, France and Italy, Egypt, and Alaska. Click here for a full listing.
BC Athletics Update

Click here to view the 2010 BC football commercial. Join Coach Spaz and the Eagles as they return to the gridiron September 4. Season tickets are on sale now and can be purchased online or by calling 617-552-GoBC. The 2010 home schedule is highlighted by matchups against ACC rivals Virginia Tech, Maryland, Clemson, and Virginia, as well as a visit by archrival Notre Dame. Season tickets start at just $175. Get in on the action by visiting bceagles.com. Click here to get your season tickets today!