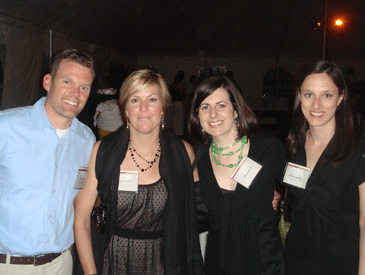 Photographs and Memories: Reunion Weekend 2009. Nearly 5,000 alumni from 11 Reunion classes attended Reunion Weekend held May 28–31. They reminisced with old friends, attended seminars and class parties, ran in the first-ever Reunion 5K, forged new memories, and reconnected with the evolving BC campus.
Pictured above, members of the Class of 1999, (from left) Matt Colleran, Nicole DeBlois, Molly Honan, and Maria Finison catch up at the 10th Reunion party.
View photos from Reunion and a Reunion Memory Wall with messages and photos from Reunion alumni around the world.
RECONNECT: An AHANA Celebration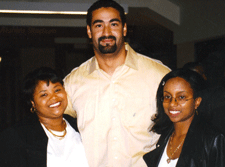 Join the Alumni Association July 16–19 for RECONNECT, which promises to be BC's largest gathering of AHANA alumni. All alumni, students, parents, and friends are welcome to attend. Weekend highlights include:
–a celebrity golf tournament
–an Asian Infusion Jazz Lunch, featuring a presentation on the Campus Master Plan
–a session on the Black Talent and OTE programs, and other strategic initiatives in support of students of color at Boston College
–a Caribbean lobster bake
–Soaring to New Heights: the RECONNECT Gala
Housing is available on campus. Don't miss this exciting event! For specific event information, including registration, visit the website or contact Eva Maynard at 617-552-4757.
Upcoming Alumni Events
Real Estate Council Breakfast — June 10
Please join the Real Estate Council at a breakfast featuring Raymond G. Torto '63, MA'67, Ph.D.'69, global chief economist at CB Richard Ellis, Inc. The event will take place at the BC Club in downtown Boston at 8:00 a.m. and costs $25 per person. Click here to register. Space is limited and there are no refunds. If you have any questions, e-mail trec@bc.edu. Read (PDF) Torto's professional biography.
Mingle with Singles! — June 17

Tired of the same old bar scene? Can't seem to find a match or any harmony in online dating? Join other single GOLD (Graduates Of the Last Decade) alumni at BC favorite Cityside 6:00 to 9:30 p.m. for the Alumni Association's very first singles networking event! Avoid the awkward and uncomfortable first conversations and connect over something we all hold near and dear—Boston College! Free hors d'oeuvres and a cash bar will be available. To register, click here.
West Coast Technology Council Panel & Reception — June 25
Tech Council members are invited to a Boston College Technology Council Panel & Reception, featuring Boston College alumni and parents who are in the wine business. The event will be held at the Garden Court Hotel in Palo Alto, California. Panel will begin at 6:00 p.m. with a reception immediately following. The cost is $15. To register for the event, visit the Tech Council website.
2009 Football Season Kicks Off — September 5


Root on first-year head coach Frank Spaziani and the 2009 Boston College Eagles as they return to the gridiron September 5 vs. Northeastern at Alumni Stadium. Season tickets are on sale now and can be purchased online or by calling 617-552-GOBC. The 2009 home schedule features matchups against ACC foes Wake Forest, Florida State, NC State, and UNC, with additional non-conference visits from Kent State and Central Michigan.
Come Out to Dover: Book the Connors Family Retreat Center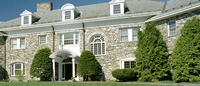 Looking for a bucolic getaway while technically being on the BC campus? Situated on 80 acres in Dover, Massachusetts, the Boston College Connors Family Retreat and Conference Center is a 50,000-square-foot mansion that offers casual to elegant event opportunities for alumni and their guests. Alumni are invited to host events such as weddings, bridal showers, private functions, leisurely outings, professional conferences, and corporate events in this magnificent setting. For more information, visit the website.
Alumni in the News

Patricia Noonan '07
James R. Boyle '82 was named president of John Hancock Financial Services. More
Kathleen Lawrence '80 received the Chancellor's Award for Excellence in Teaching at SUNY Cortland's commencement ceremonies. More
Patricia Noonan '07 is starring in a theatrical production of Carousel, opening June 17 in Pittsfield, Massachusetts. More
More news stories about alumni
2009 National Day of Service:
Kansas City Chapter Recognized for Volunteer Service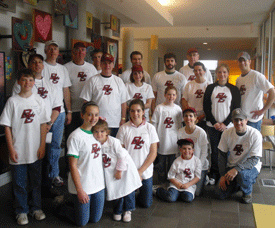 The Kansas City Chapter is this year's Magis Chapter.
The Kansas City Chapter was named the 2009 National Day of Service Magis Chapter for being the alumni chapter with the highest percentage of volunteers. More than 20 BC volunteers partnered with Ronald McDonald Charities to organize storage areas and to landscape at the Ronald McDonald House. The Alumni Association sends a special thanks to project liaison Chapter Co-leader Alex White '95 and Chapter Co-leader Leader Tim Haake '02. Overall, 31 regions/chapters were involved in this year's Day of Service, and volunteers performed more than 1,700 hours of work. BC's alumni efforts were featured in a USA Today article. The fifth annual National Day of Service will be held Saturday, April 17, 2010.
Alumni Career Services
Career Exploration Panel Discussion in NYC has Large Alumni Turnout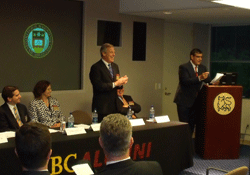 Panelists included (from left) JonMarc Buffa '98 of the United States Commodity Futures Trade Commission; Trustee Associate Kathleen A. Corbett '82, founder and principal of Cross Ridge Capital LLC; Richard Cronin '76 of the United States Department of Treasury; and Andrew Boynton '78.
Some 120 alumni participated in an event in New York City on May 14 entitled, "Update on the Global Financial Crisis: Exploring Career Opportunities in the Public and Private Sectors." Co-sponsored by the Alumni Career Services Committee and the New York City and Washington, DC, Chapters, the event featured six alumni panelists and was moderated by Andrew Boynton '78, dean of the Carroll School of Management.
Get LinkedIn!


Looking to increase your network? Alumni are welcome to join the BC Career Volunteers group on LinkedIn!



Northern California Celebrates Mass with Fr. Leahy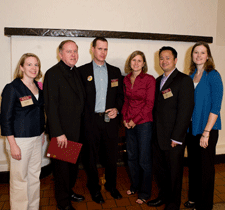 (From left) Meredith Rosen '02, University President William P. Leahy, S.J., Kevin Morris '01, Meghan Andrade '03, Paolo Villasenor '96, and Isabelle Boone '03.
On April 26, more than 100 alumni, parents, and friends from the Northern California Chapter gathered as a Boston College community at the Chapel Of Our Lady in San Francisco to celebrate Mass with University President William P. Leahy S.J. Following Mass, a reception was held at the Presidio Officers' Club where Father Leahy provided updates on the Light the World campaign.

See what's happening with your alumni chapter this summer.
Alumni Travel Deals Still Available for 2009:
Schedule Released for 2010

It's not too late to sign up for the following trips offered by the Alumni Association's travel study program: Dordogne (PDF), Italian Lake District (PDF), and South Pacific Wonders. Recently announced destinations in 2010 include Egypt, Vietnam, Provence, the Mediterranean, Oberammergau, Tuscany, and South Africa. Discover more.