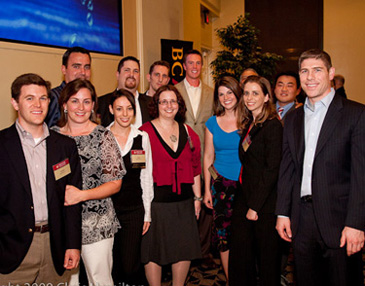 Atlanta Alumni Huddle with Matt Ryan '08 and Gene DeFilippo. In the pocket as usual, Atlanta Falcons quarterback Matt Ryan '08 (back center) poses with alumni from the Atlanta Chapter at a reception featuring himself and Director of Athletics Gene DeFilippo. Hosted at the Georgia Tech Alumni House on March 11, the event drew some 80 alumni, family, and friends.
Find out what's happening with your alumni chapter.
Upcoming Alumni Events
Baseball Beanpot & Reception — April 13

Gather at Fenway Park with fellow alumni for the 20th annual "Baseball Beanpot." After the final game, join the Alumni Association at the Baseball Tavern for some great pub food and a cash bar. Click here to register. Read more.
The Marathon of Life — April 14

Join fellow BC alumni for a presentation by Michele Bredice Craemer on how to manage stress. Click here for more information and to register.
Volunteer Information Night — April 14

Discover how you can stay connected, engaged, and involved with Boston College at the Alumni Association's Volunteer Information Night. Click here for more information and to register.
Alumni National Day of Service — April 18

The Alumni Association is proud to sponsor the fourth annual National Day of Service. This year's alumni chapter with the highest participation percentage will be recognized as the 2009 Magis Chapter, symbolic of the Ignatian term for "the more" or the "greater good." Your participation in this volunteer effort will help your community and bring great visibility to BC. Sign up for your chapter project. Read stories submitted by alumni about their favorite BC service memories.
A Taste of the Arts — April 25


As part of the Boston College Arts Festival, this special alumni event includes a dinner reception, live music, a cash bar, art for sale, and the presentation of the Arts Council Alumni Award. Alumni may also choose to attend one of two main events: Dancing With BC bOp! or Sweet Charity in Robsham Theater. To register for this event, click here.
Northern California Chapter Mass — April 26

The Alumni Association's Northern California Chapter and the Boston College Fund cordially invite you to a Mass celebrated by University President William P. Leahy, S.J. A reception at the Officers' Club will immediately follow. To reserve a space, please contact the Alumni Association at 800-669-8430 or click here.
Newton College Spring Events
Newton College alumnae are invited to two marquee spring events. A Spring Social will be hosted in New Canaan, Connecticut, by Karen Sweeney Mactus, NC '73, on April 19 (RSVP deadline is April 9). The following Sunday, alumnae are welcome to attend the 16th annual Spring Tea in Chevy Chase, Maryland, at the home of Martha Kendrick Kettmer (RSVP deadline is April 16). To register, contact Julie Nuzzo at julie.nuzzo@bc.edu.
Learn about more Newton College alumnae news and events.
Spirituality and Service

In January, the Alumni Association's Office of Spirituality and Service established a new platform for your prayer requests: On Eagles' Wings. Through this online service, the Alumni Association staff has brought more than 1,000 prayers and intentions to St. Mary's Chapel. Submit a prayer request.
Final Program in Lenten Series at BC Club — April 8

Don't miss the final Lenten program focusing on "Fear, Finances, and Faith." Led by Thomas Massaro, S.J., a professor of social ethics at BC's School of Theology and Ministry, this three-person panel will continue to look at our current economic crisis through the eyes of faith. 5:30-7:00 p.m.
Cor Unum Service Event — April 24

Join fellow alumni on Friday, April 24, to serve meals at the Cor Unum Meal Center in Lawrence, Massachusetts. The center serves food to nearly 600 people each day. The group will work from 4:00 to 7:00 p.m. To volunteer, contact Dianne Duffin at 617-552-1171 or dianne.duffin.1@bc.edu.
Do you ever wonder where your life is headed? The Pathways retreat offers Boston College alumni who have graduated within the past 10 years an opportunity to return to campus and consider their path since graduation. This special gathering combines the elements of a spiritual retreat with a career/vocation discernment workshop. The cost for this overnight retreat is $105 and is limited to 30 spots. For more information, contact Dan Leahy at 617-552-3478 or daniel.leahy.1@bc.edu, or Dianne Duffin at 617-552-1171 or dianne.duffin.1@bc.edu. For information on how to register, visit the spirituality and service website.
East Coast Tech Council Spring Dinner
Tech Council members are invited to the Boston College Technology Council Annual Spring Dinner on May 12. Featuring keynote speaker Joseph M. Tucci, chairman, president, and chief executive officer of EMC Corporation, the event will be held at the Needham Sheraton. Reception at 6:00 p.m.; dinner at 7:00 p.m. The cost is $30. For more information, visit the Tech Council website.
Wall Street Council Tribute Dinner

The 21st annual Wall Street Council Tribute Dinner on April 23 will honor Alfred F. Kelly, Jr., P '09, '11, president, American Express Company, with the President's Medal for Excellence for his exceptional personal and professional contributions to society. Over the past 20 years, the Tribute Dinner has raised more than $12 million dollars for the Presidential Scholars Program at Boston College. For more information, contact Renee LeBlanc at 617-552-2234 or Renee.Leblanc.2@bc.edu.
Your Networking Connnection: BC Career Services
In this economic climate, the BC community can be a powerful career resource for students and alumni. A great place to start is the Alumni Career Network, a database of alumni who have volunteered to help other alumni and students with job searches and career advancement. The database, however, is only as strong as its membership, and more alumni volunteers are needed. Sign up for the Alumni Career Network by logging into the Alumni Online Community. Read this message (PDF) from the Career Center to discover more ways to take advantage of the Alumni Online Community's career services.

Alumni in the News

Anna Geueke '08
Juliette Fay '84 published her first novel, Shelter Me, which was chosen for the "Indie Next" list by independent booksellers. More
Anna Geueke '08 opened a photography exhibit to raise money for eye surgeries in Ghana. More
Robert Sheridan '72, president and CEO of Savings Bank Life Insurance Company of Massachusetts, was honored for his community service. More
More news stories about alumni
New Travel Deals Available

The Alumni Association's travel study program offers many adventures through the spring and summer. Substantial savings are available for trips to Dordogne (PDF) and the Italian Lake District (PDF) if booked by April 6 and April 8, respectively. Discover more.
Reconnect: An AHANA Celebration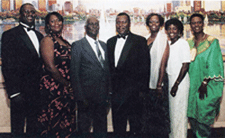 Reconnect, which promises to be BC's largest gathering of AHANA alumni, takes place July 17–19. Registration is now available by clicking here. If you have any questions, contact Eva Maynard at eva.maynard.1@bc.edu.
No Chilly Reception:
Alumni Day at Men's Hockey Scores Big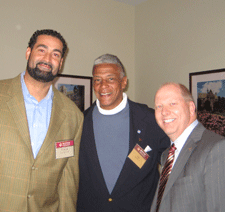 (From left) Stalin Colinet '96, Keith Barnette '76, and John Feudo '82, associate vice president for alumni relations.
More than 150 alumni and friends gathered for Alumni Night at Men's Hockey on February 27. Hosted by the Alumni Association's Boston Chapter and the Varsity Club, this special pregame reception included traditional tailgate fare and guest speaker and new BC football coach Frank Spaziani, and was capped by BC men's hockey's 5-1 victory over Providence on the Kelley Rink ice.