Giving Online
law school fund



Light the World
A Campaign for Boston College Law School
You may already have received information about the Law School's $50 million participation in the University's $1.5 billion Light the World campaign. This marks the first time in BC Law's history that it has taken an active role and set a specific fundraising goal as part of a larger Boston College campaign. Our priorities--increasing faculty professorships and research funds, building student scholarships and loan repayment assistance, supporting programs like our new LL.M. program, and improving our facilities--come from the goals set during our strategic planning process several years ago, and support our vision of becoming an even stronger world leader in legal education.

Your gift to the Law School Fund is a great way to support the campaign and the School. Rest assured that all donations to the Fund will count toward that effort. There are other opportunities for named professorships or scholarships as well. For more information, please email or call our Assistant Dean for Capital Giving, Mike Spatola:
spatolam@bc.edu
617-552-6017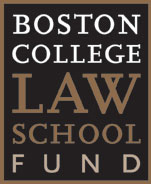 Giving online to the Boston College Law School Fund is simple. Visit the online giving site, and complete the form. Make sure to assign your gift to the Law School Fund by using the drop-down menu. Complete your payment using a major credit card, and you're done.
The Boston College Law online giving form is easy and completely secure, so you can rest easy that your personal and financial information is safe. The whole process takes only minutes to complete. Alternatively, you can print and mail in our Law School Fund Gift Form.
So take a few moments to designate your gift to the Law School. Your gift will help the School in many ways, from support for students, faculty and staff to facility improvements. Every dollar counts. We thank you for your gift!