Reunion: Then and Now
ebrief feature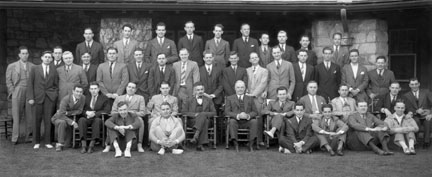 Boston College Law School Reunion Weekend will be held November 7-9, 2008.
The celebration begins Friday morning and will include an art exhibit, alumni lecture, official class meeting, student panel, region-based networking reception, addresses by the Alumni Assembly and by the Dean, a Half-Century Luncheon, and of course, class "bar review" cocktail receptions and the class dinner on Saturday evening. If your class year ends in "8" or "3" or you graduated prior to 1958, be sure to visit our Reunion webpage for the latest and to register.

Bringing people back to campus for reunions triggers a flood of old memories of classes and friends and professors, of buildings and local haunts. In anticipation of Reunion 2008, we've culled through our archives and gathered a slideshow of old and new photos from BC Law over the years.